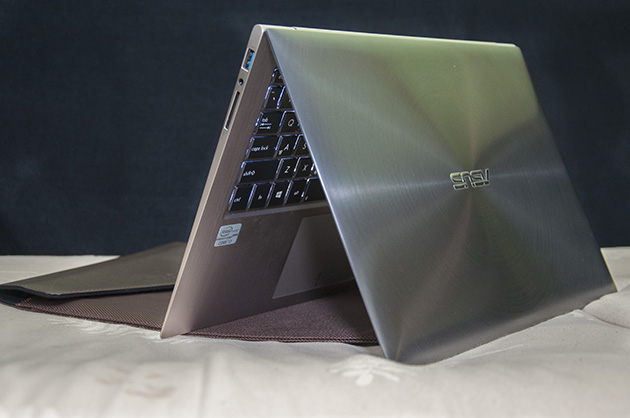 We've seen all sorts of fantastical devices with the launch of Windows 8, all trying to live up to the operating system's vision of a converged device that does everything.
That doesn't mean PC makers are abandoning the tried-and-tested design of a laptop. They're just going to stick on a touch screen wherever they can.
That's exactly what ASUS did with its Zenbook Touch ultrabook — essentially a Zenbook Prime with a touch screen — and the results are excellent.
Hardware and design
Nothing much has changed on the Zenbook Touch's exterior, which is virtually identical to all other Zenbooks.
The signature glossy spun metal finish on the laptop's lid is as beautiful as I remember, and gives it a decidedly different feel compared to the similarly-shaped MacBook Air.
It has the same wedge design that is thicker towards the back and slopes down gently towards the user.
Overall, not much is different in terms of hardware with this new model, except, of course, for the new 13.3-inch full HD touch screen (more on that later).
Underneath the sleek exterior are the specifications of a high-end ultrabook – 1.9GHz Core i7 processor, 4GB of RAM, 256GB of solid state storage and Intel HD 4000 graphics.
There are also two USB 3.0 ports, an SD card slot, a micro-HDMI port and a mini-VGA port — a pretty good variety for an ultrabook. ASUS has kindly supplied adapters for the last two, so there's no need for any additional purchase.
Performance
As expected, the Zenbook Touch is blazingly fast. I didn't even bother to count how long it took the machine to boot up because it just doesn't matter. Seconds after you tap the power button, the machine is all ready to go.
The touch screen is responsive enough, but kinetic scrolling seems to be off. Most times, a hard flick with my finger causes the screen to zoom ahead without slowing down until it reaches the end of the page, unless I stop it with an additional tap.
I was naturally sceptical of a touch screen on a traditional laptop form factor at first, but soon got used to it. In fact, I preferred reaching up to scroll and zoom instead of using the trackpad after a while. It feels a lot more natural to interact directly with elements on the screen. But a mouse will still trump the finger if you're doing fine work with a mouse cursor.
Gaming on this machine is okay. You can get acceptable frame rates on popular games as long as you're willing to settle for lower settings. Casual gamers should find it sufficient for their occasional raids.
Battery life is decent. The Zenbook could last about 5 hours with regular usage, which isn't bad, but not fantastic either. ASUS promises a stand-by time of up to two weeks, though I doubt any one of us will leave our computers lying around turned on for two weeks.
The machine gets a bit warm if you're pushing it, but luckily the heat never spreads to the palm rest so your hands can remain cool.
Keyboard, trackpad, display, sound
The display is gorgeous. Full HD on a 13-inch panel is more than sufficient to banish any jagged edges from fonts, and colour is strong and vivid.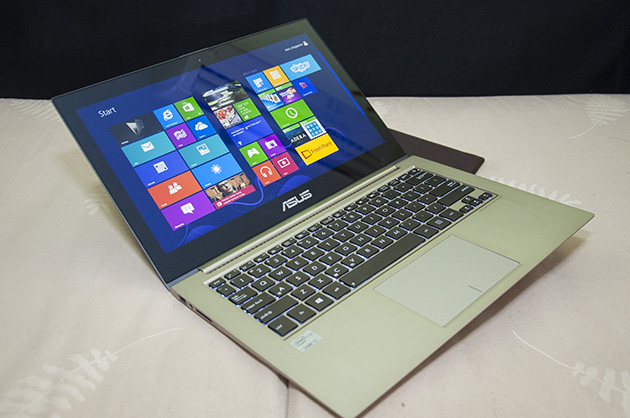 On the desktop, however, full HD makes everything much too small to see comfortably. It's probably best for your eyes to go into the control panel and set the global zoom to at least 125 per cent.
Colours really pop on the display, and viewing movies and playing games is a treat.
But it gets a bit too glaring at times. I realised that the room lighting has to be just right, or I would find the screen too bright or too dim.
The keyboard is also the same as the previous Zenbooks: nicely spaced out with good travel. As I'm sure is the case with some of you, I'm still not as big a fan of chiclet keys as I am of the older designs where all the keys are placed flushed with each other. But the world moves in that direction, so we must adapt, too.
The trackpad, too, has a generous size, but responsiveness is a fickle affair. I definitely preferred to use the touch screen whenever possible.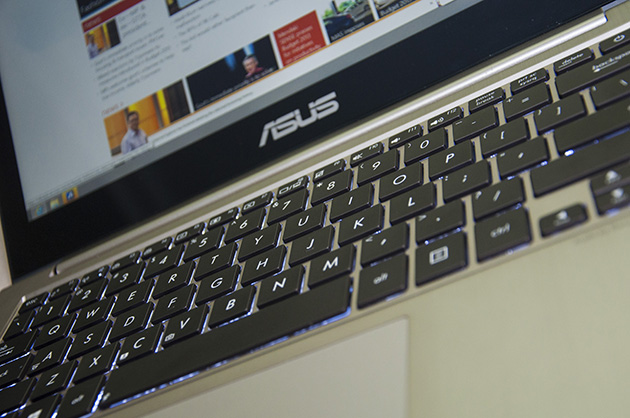 ASUS has been touting the audio capabilities of its laptops since co-developing that aspect with Bang & Olufsen, but the sound isn't that appealing.
It's loud and clear, to be sure, though too tinny with hardly any bass. I suggest getting a pair of good earphones when you're on-the-go, or just plug the laptop into a set of external speakers at the desk.
Wrap-up
The only thing that may stand against the Zenbook Touch is its price. S$2,498 is a lot of money to ask, considering all the other powerful machines you can buy at that price.
Nonetheless, for a touch-enabled ultrabook, the Zenbook Touch is clearly among the best in its class. It delivers everything you'll need for a Windows 8 machine, and has a fantastic design to boot. That is, if you prefer the traditional laptop form factor. The adventurous ones may want to give those fancy new convertibles a shot.