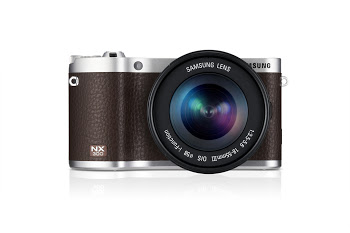 Samsung NX300
Samsung has packed in the features in its new flagship NX camera aimed at the prosumer market. The new NX300, shipping in Singapore now, can be fitted with a 45mm 2D/3D lens that claims to be the first one-lens 3D system capable of capturing both still images and full HD movies in 3D.
The new camera also comes with a 20.3-megapixel APS-C CMOS sensor, which promises sharp, life-like colors images that are crisp and clear even in difficult light conditions.
Other features include 1/6000 second shutter speed, a wide ISO range of 100-25600, and a hybrid auto-focus system that is usually found on DSLR cameras. The tilt-screen that comes with the camera is a nifty feature, allowing users a better view while taking overhead shots or low shots.
The NX300 also enables users to share photos with their smartphone/tablet immediately through the Smart Camera app (available on both Android and iOS).
Once a secure connection between the camera and the mobile device is established, each snapshot taken with the camera will also be transferred to the device, saving users the hassle of transferring images out of the camera via USB to their phones/tablets.
Photography enthusiasts will also be pleased to find out that the NX300 comes bundled with the popular photo-editing software, Adobe Photoshop Lightroom 4.
The NX300 comes in three colours – brown, black and silver – and looks pleasantly retro, as long as you can afford its S$999 asking price. The 45mm 2D/3D lens is sold separately at S$699.