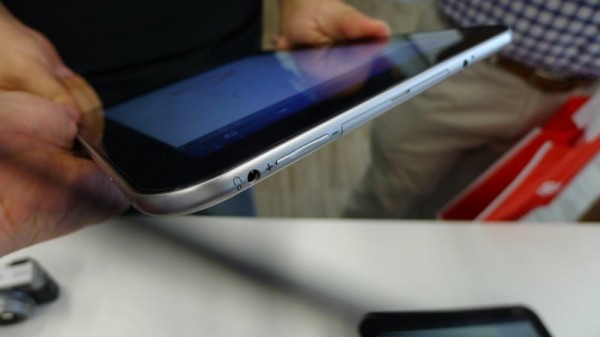 Toshiba was one of the first out with an Android tablet almost three years ago, and it wants to be back in the game now, as Android gradually eclipses iOS as the main tablet operating system.
Its new 10.1-inch Excite Write and Excite Pure tablets, out in Singapore from next month, show what a sea change Android tablets have undergone over the years.
Just how do they stack up against the competition though? We had a quick hands-on with the tablets earlier this week.
Let's look more closely at the Excite Write range. This is the higher-end range and comes with both a Wi-Fi (S$799) and 3.5G version (S$899).
It also comes with the hardware you'd expect: a fast Nvidia Tegra 4 processor, 2GB RAM, 32GB storage and yes, a very sharp 2,560 x 1,600 resolution. This is probably the Excite Write's biggest selling point.
Once you have gotten used to viewing sharp images and text on a sharp screen, there's no way you're going back to blurry 1,280 x 800 screens, like those found on the Samsung Galaxy Tab 3.
By now, you're probably thinking of the Nexus 10, which was the first to sport such a high resolution on a 10-inch tablet. In many ways, the Excite Write looks very much like a tablet made out of a reference design of the Google tablet (made by Samsung).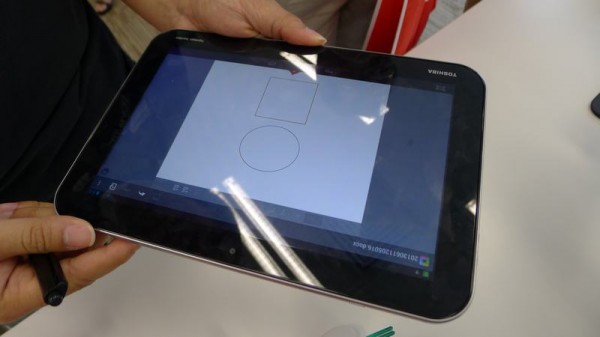 The build is sturdy if a little plain. Like the Nexus 10, the tablet has regular rounded edges but really nothing to shout about in terms of design. Surely, in terms of looks, it doesn't beat anything that Asus or Samsung has lined up for this year. No pretty metallic patterns or even faux metal touches here.
What Toshiba has done well though is to keep its Android 4.2 operating system with minimal junk software. The no-fuss look is as close to a stock Android OS as you'd find from a non-Nexus tablet, and that's a good thing if you prefer a smooth experience and know where to download the apps you need.
During the quick hands-on, I found that the Excite Write ran very smoothly. The zippy menus were quite reminiscent of the experience on a Nexus 10, which I am using now.
Unlike the Nexus 10, however, Toshiba has also included a handy microSD card slot in its tablet. This means no more running out of memory storage if you want to bring your movies on your travels.
What's more important is that Toshiba has also included a 3.5G modem in one of the models. Though this isn't as good as 4G, it at least gives you access to the Net to grab your e-mail urgently, even when there's no Wi-Fi hotspot nearby.
To make sure that it has packed in the goodies, Toshiba has included a stylus that lets users write and draw on the screen. With a display that supports 1,024 levels of pressure, the tablet differentiates how hard the pen is being pressed down, like with real ink.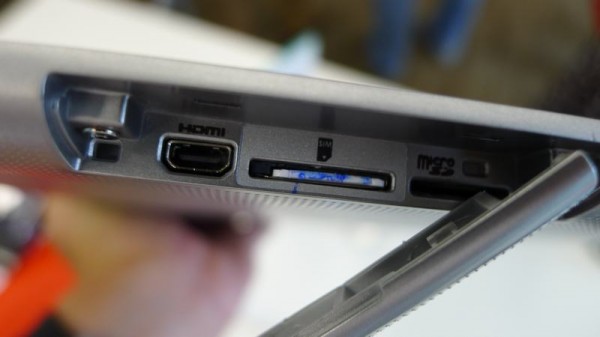 As a lifestyle product, the Excite Write may not look as sexy as, say, Asus' PadFone Infinity. But it's cheaper – at under S$1,000 – and it's got great hardware, especially its really sharp screen. Its stylus is another big plus for folks who like to draw or scribble notes.
Those features are missing from Toshiba's Excite Pure tablets, which look almost the same but come with a rather lacklustre 1,280 x 800 screen, an older Tegra 3 CPU and 1GB RAM. However, they cost a lot less too, at S$499 (Wi-Fi) and S$599 (3G).
With a lot less marketing than its rivals, both the Excite Write and Pure tablets may not get on the radar of many potential buyers, when the Wi-Fi models for both ranges appear in shops in July and the 3.5G ones turn up in August.
Yet, the Excite Write range definitely should be worth checking out for a fuss-free but high-powered 10.1-inch tablet. The lower-cost Excite Pure tablets face a lot more competition at the price point, and come up against other options, from say, Samsung.