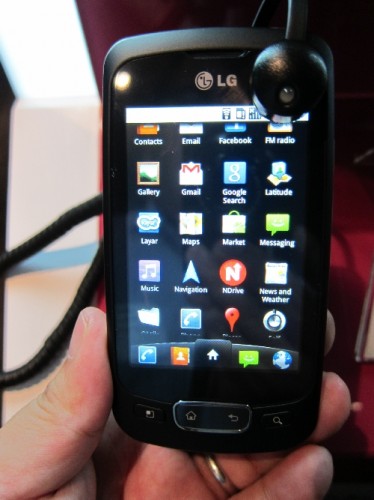 This week is a big week when it comes to phone launches. Today, we saw the launch of LG's Optimus One and Optimus Chic, two Android 2.2 (Froyo) smartphones that will help the Korean electronics maker close the gap with rivals Samsung, HTC and Apple.
Today also saw Nokia's much-touted "come-back" launch of smartphones, which sadly, turned out to be more of the same Symbian numbers that we saw earlier this year with the N8. I did not manage to get a hands-on with the Nokias, but Engadget seems to be raving about them.
Personally, I find the LG phones more interesting. The Optimus One (LG-P500), for one, looks the part with a 129-gram frame that comes with a 3.2-inch screen (320×480) and support for all your regular Froyo goodies, like support for Flash webpages, multi-tasking and Wi-Fi tethering.
The Chic has similar specs except it has soft instead of hard buttons and a smaller-capacity battery (1,250mAh versus 1,500mAh). I'm a little curious why LG has not differentiated the two phones more, for example, in different screen sizes. They just seem a little too similar.
But how different are the two LG phones from every new Android phone that seems to sprout out nowadays? One useful and unique feature is turn-by-turn navigation for Asia. Called NDrive, this LG app provides what the Google Nexus One didn't have for Asia, that is, prompts to turn the right way when using Google Maps to navigate around town.
If there's something I think LG can improve on, it is CPU speed. Though most tasks that I tried in a quick hands-on at today's Singapore launch proved easy enough for both phones' 600MHz CPUs and suffered no perceivable lag, wouldn't it be nice to have a 1GHz powerhouse in there, just as Samsung and HTC have for their flagship phones?
Launched in 90 countries, the Optimus One will go on sale in Singapore in mid-October. There are no details on prices yet. At the time of writing, I also don't have price or availability information for the Chic.
As I said at the start of this post, this is an exciting week. Tomorrow sees the launch of two new HTC phones in London. I'm not there, but I can assure you I'll have a hands-on report on the new phones as well. Keep a look out for an early preview.