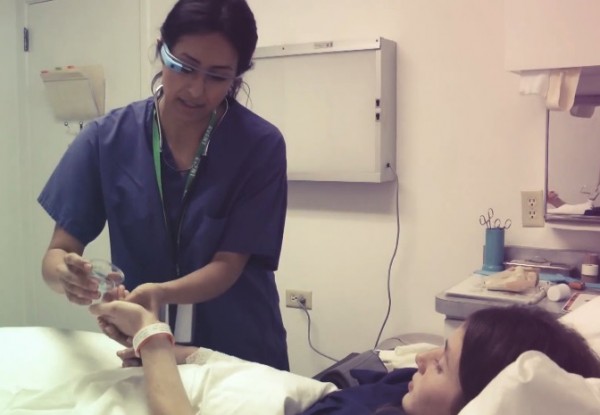 More doctors could be using Google Glass to examine a patient's vital signs, if an augmented reality app being tested by technology giant SAP becomes reality.
Dubbed We Care, the app also lets doctors retrieve a patient's X-ray images and other medical data on the fly, before referring him to a specialist as part of the triage process.
The app, which frees doctors from having to look up records on a computer while attending to a patient, is being piloted at a hospital in Asia, said SAP executives at a media summit today. It is expected to be rolled out early next year.
SAP expects to build such apps and other technologies targeted at sectors such as healthcare, government, manufacturing, as well as digital consumers at its new innovation centre in Singapore.
Rob Enslin, executive board member and president of global customer operations at SAP, said the centre will bring together over 100 industry partners, customers and universities to collaborate on four to five projects at any time.
For a start, the centre, which will open by the end of this year, has roped in various wearable technology experts, including the Google Glass team in Singapore.
Local startups can also tap on the centre's technologies to expand their reach in new markets, said SAP, which marked its 25th year in the Asia-Pacific region today.
SAP's HANA in-memory database, whose revenues grew 79 per cent to reach €149 million during the third quarter this year, has been instrumental in driving the company's business.
Speaking at the media summit, Economic Development Board deputy managing director Quek Swee Kuan said SAP's new innovation centre will help companies pursue their digital transformation strategies from Singapore.
"The innovation centre is thus a significant and strategic addition to the ICT ecosystem in Singapore," Quek said.
At the event, SAP also said it will extend its University Alliances Student Entrepreneurship programme to Japan and Korea later this year.
Launched globally in March, the programme, which helps students build products with SAP's technologies, was recently announced in Australia, India and Singapore. Over 2,000 tertiary students in Singapore are expected to benefit from this programme.
Separately, SAP announced that DBS Bank has signed up for its financial cloud service that makes it easier for corporate users to transact with their banks.