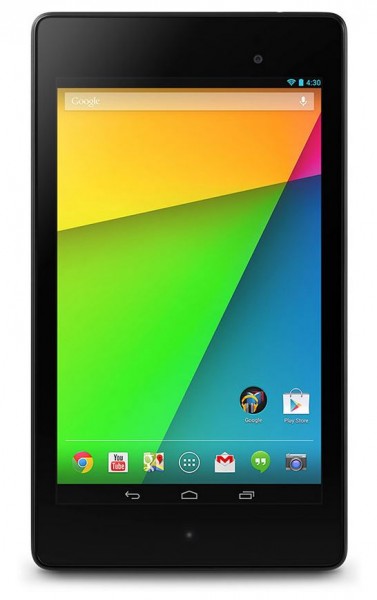 Google has upped the ante for small 7-inch tablets by unveiling a new Nexus 7 that sports a sharp Full HD screen, faster processor and optional 4G connectivity.
Out in the United States from July 30, the souped-up tablet builds on the previous Nexus 7, which established a beach head of sorts for Android tablets last year with an affordable, yet fast alternative to Apple's larger iPads.
Apple was concerned enough to launch its own 7.9-inch iPad mini to counter the popularity of small Android tablets, which started back with Samsung's original Galaxy Tab but really only took off with Amazon's Kindle Fire in 2011 and Google's Nexus 7 last year.
In the new Nexus 7, Google and partner Asus will look to cement the lead that Android tablets now have in the market.
The key selling point will be a sharp 1,920 x 1,200 screen, which offers a 323 pixels per inch density that is sharper than the iPad mini and is probably the sharpest out there for a tablet of its size.
This will let users read text without any jagged edges. Full HD movies are expected to play extremely clearly on the screen as well.
To pump out all that eye candy, Google has included an updated Qualcomm Snapdragon S4 Pro CPU and Adreno 320 graphics processor. There's also 2GB of RAM instead of the previous 1GB to let users switch between apps without the dreaded lag.
Interestingly, despite the added features, Google and Asus have packed a smaller 3,950mAh battery, compared to the 4,325mAh in the previous Nexus 7. Nonetheless, folks who love wireless charging will be happy to know that the new Nexus 7 comes with Qi, which lets you simply tap your tablet on a charging surface to juice up.
Finally, the 4G or LTE (Long Term Evolution) support will be much welcomed, considering the first versions of the Nexus 7 shipped with only Wi-Fi. Google lists on its website both Europe and US LTE bands, so the new tablet should log in to much of the world's high-speed cellular data networks.
What is lacking though, as with almost all Google Nexus devices, is expandable storage. You either get 16GB or 32GB of built-in storage and will have to stream your content – movies, songs and other stuff – over the Net, which is the preferred Google way.
Will you suffer that trade-off? Well, Google is asking for a low price starting from US$229. It's attractive and it will put pressure on competitors, including both Apple and other Android tablet makers such as Samsung.
We'll update on price and availability in Singapore as we get the details.