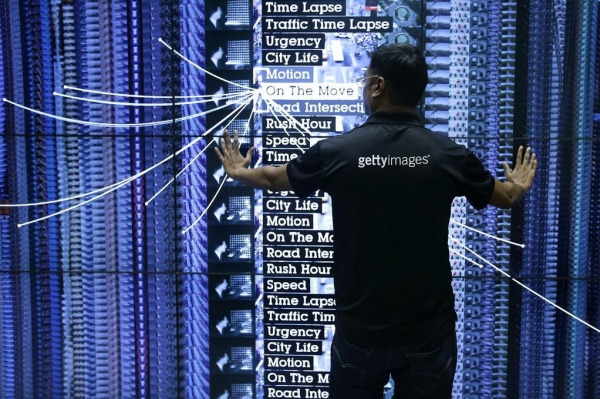 It was a scene mildly reminiscent of the 2002 science-fiction movie Minority Report.
A group of people paced about in front of a wall of 24 television screens, which showed frame after frame from videos cascading down like the old film reels of yore.
A man moved a step to his left, and the content responded instantly, enlarging the frames in front of him while banishing the rest into tiny thumbnails. He lifted his arm, and without touch the screen, a list of meta-tags sprung to life, adding context to the videos on display.
Created by award-winning production and installation artists The Light Surgeons, the dynamic video wall made its debut at Cannes Lions earlier this year, and was in Singapore from a fortnight ago for the Spikes Asia Festival of Creativity.
The videos in the installation were extracted from Getty Images' archive of more than 20,000 hours of clips, a fact which the company was keen to highlight as it looks to video as a new area of growth.
The increased emphasis on video content comes at a time when online video is experiencing a boom in viewership. According to official YouTube statistics, over six billion hours of video are watched on the video streaming site each month, and 70 per cent of its traffic comes from outside the United States.
Little surprise, then, that out of marketing and media magazine Advertising Age's top 100 advertisers, 94 run YouTube campaigns.
And at the center of it all is Getty Images — or so the company hopes. Its enormous library of stock video footage serves up everything from archival black-and-white films to contemporary HD scenes, providing brands with a dizzying array of possibilities for telling their stories.
"Getty Images is well-known for our photos, but there's little awareness that we've also been offering video content since 2002," said Elvira Lodewick, the company's Asia Pacific marketing director, in a recent interview with Techgoondu. "It is a huge growth area for our business."
In fact, it's possible to put together a coherent narrative using nothing but stock video footage. In May earlier this year, a Brazilian advertising agency sifted through 4,000 videos over four months and created a short love story from 105 different clips.
But it is when these videos cross paths with other media that things become more interesting.
For years, brands have been experimenting with so-called transmedia storytelling, one of those hot buzz phrases bandied around at media conferences and boardrooms which essentially means presenting a story or narrative through multiple media formats.
A recent high-profile example is Christopher Nolan's 2008 movie The Dark Knight. In addition to the movie itself, Warner Brothers ran numerous other external sites, each complementing the main narrative with perspectives from other characters and events. The result was a rich spectacle that was far more immersive than what an ordinary movie can accomplish.
Needless to say, video plays a very important role in transmedia storytelling, and is one of the reasons why Getty is selling more videos than ever. In the 10 years since the company launched its video library, downloads have increased by more than 10,000 percent, with customers spending 22 times as much money on video.
Closer to home, Lodewick points out that video sales in Southeast Asia and Hong Kong are also growing rapidly – by more than 20 per cent, year on year.
Properly developed, the use of video in transmedia storytelling can be a powerful way to engage audiences and reinforce perceptions of a brand. However, Getty Images says this isn't limited to just professionally produced videos.
"The distinction is not between professional and amateur, but between compelling or not," said Rebecca Swift, head of creative planning at Getty Images, during a presentation at Spikes Asia.
"It's as much about authenticity as it is about quality," Lodewick adds.
A 2012 comScore study found strong evidence that the combination of professional video and actual user-generated videos can drive sales effectiveness. This is consistent with a critical component of effective transmedia storytelling: audience participation and interaction.
Indeed, anyone with a DSLR or even a smartphone camera is today a content producer. Facebook sees more than 350 million photo uploads per day (revealed in a September white paper), and its sister service Instagram reports an average of 55 million uploads per day. (The latter even added 15-second videos to its arsenal in June this year, another piece of evidence in favour of the rising popularity of not just watching, but shooting, video.)
Getty Images itself is no stranger to user-submitted content. Anyone can sign up to have their photos reviewed and, if they meet the company's standards, have them added to the company's archive. Getty also partnered with Flickr in 2009 to offer its users an opportunity to sell their photos. There are currently more than 600,000 photos in Getty's Flickr collection.
The company also recently struck a similar partnership with Vimeo, letting contributors submit their content to be reviewed and licensed through Getty Images.
"The key to our business is as much about sourcing fresh, relevant content, as providing easy to use search functionality to help users navigate our collection of over 60 million images and 1.8 million video clips," said Lodewick. "It's not easy to create a well-designed catalog that's carefully curated and easy to browse like Getty Images has been doing since the very beginning."
In other words, Getty sets a certain standard for user submission, and offers only what it considers are quality content. Even if Facebook or Instagram decides to suddenly offer a way for its users to sell their photos and videos, they will have a long way to go before catching up to Getty.
As supporting technologies such as mobile broadband, cloud storage, and video delivery systems continue to mature and improve on streaming and download experience, the role of video in transmedia storytelling is only going to become more important.
"Demand for a transmedia experience is seeing advertising strategies shift from static to dynamic content, often co-created through audience participation, enabling consumers to interact with brand stories in unprecedented ways. For this reason, the future of video is something that should be top of mind for brands and publishers — in the way it's captured, curated and distributed," said Lodewick.
"The best brands tell a story, and video presents a huge opportunity for brands to capture the attention of audiences, to educate and engage at a new level, particularly as the use of smartphones and tablets continues to proliferate across Asia," she added.