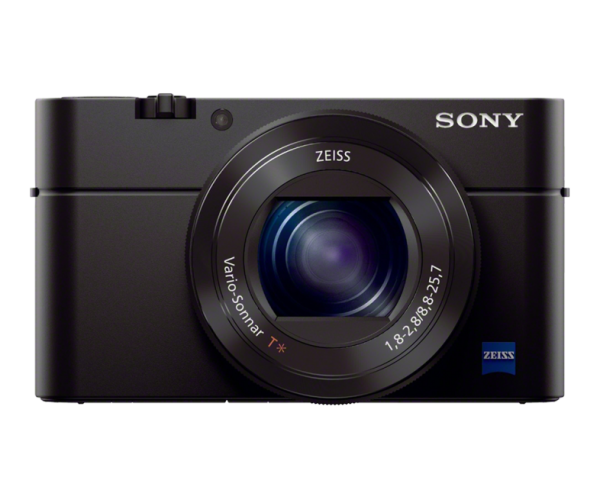 How do you make a great camera even better? Sony's original Cyber-shot DSC-RX100 camera, when it came out just over two years ago, was a revolution and a revelation.
It was the first compact camera to sport a one-inch sensor and fast F1.8 lens that starts at 28mm and tops out at 100mm. It was made for anyone who desired great pictures in a small package. It was a critical success.
Then came the RX100 II. The updates to that camera were incremental, the major news there being the integrated hot-shoe and an articulating screen.
Now, Sony has introduced the RX100 III, out in Singapore next month for S$1,199.
Going by a media preview that I had last night in Singapore, the new version is more impressive than ever. Its many new features definitely make this more than an evolutionary update.
The Mark III, as Sony spokespersons call it, looks pretty similar to its older siblings. That's a good thing. The RX100 series is one of the handsomest cameras in the market.
If you take a closer look, you'd realise the new Mark III is missing the hot-shoe from the Mark II. Apparently, Sony has been speaking with users, and found that many weren't attaching external flashes or other accessories to the RX100 II. Instead, they were using Sony's optional electronic viewfinder (EVF) on the hot-shoe more than anything else.
On the Mark III, Sony has moved the built-in flash to where the hot-shoe was, and now includes a built-in pop-up SVGA EVF with 1.44M dots. While most of us are happy using the screens on our compact cameras, users in Singapore will surely appreciate the EVF under bright sunlight.
The camera retains the same excellent 20.1 megapixel one-inch Exmor R BSI-CMOS sensor, but it's now powered by the new Bionz X processor. Together with the new aspherical lens (consisting of nine aspheric elements and AA lens), Bionz X drastically reduces any sort of barrel distortion in images.
Speaking of the lens, Sony has updated the Carl Zeiss Vario-Sonnar T lens to a wider 24mm (at F1.8) but reduced the telephoto range to 70mm (at F2.8). Make no mistake. This is a fast lens, and I think Sony made the right choice here. You can't ever get enough reach with telephoto. If telephoto's important to you, there's always the RX10. Alternatively, consider the RX100 II that features a longer 28-100mm F1.8-4.9 lens, which Sony will continue selling at a reduced $899 (was $999).
The 24mm lens here coupled with the aspherical lens is going to make group shots that much prettier; you'll no longer hear women sitting at either end of group photos grumble that they look fat (because of barrel distortion).
In practical terms, it also means the Mark III is going to be more suitable for architectural and landscape photography, giving photographers greater creative flexibility than ever.
Sony has also vastly improved the 3-inch tilt screen on the Mark III, which now articulates 180 degrees so you can capture those all-important selfies.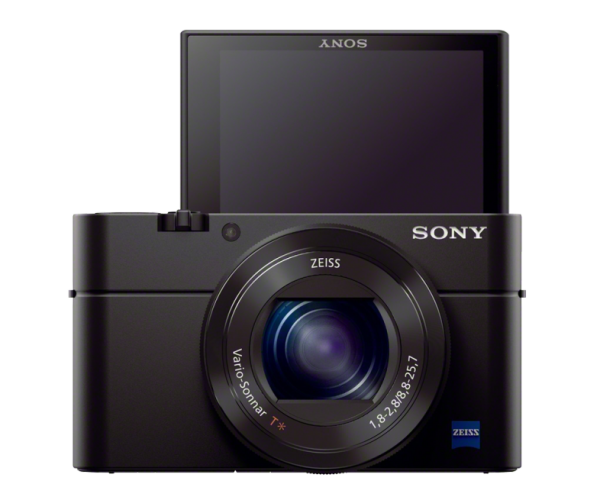 As usual, Sony has included focus peaking to ensure your images are sharp and zebra pattern to keep your exposures under control. Speaking of exposures and light control, the Mark III also has a 3-stop neutral density (ND) filter, which is good, because the shutter speed remains a pokey 1/2000. The ND filter is a great way to let users control their exposures under extremely bright lights.
As before, the RX100 III comes with Wi-Fi and NFC, so pairing it with a smartphone (iOS and Android) using Sony's PlayMemories Home application stretches the creativity options of your shooter. You can send your shots to your phone at full or reduced resolution for immediate touch ups or uploads to your favourite social streams. And Sony is building up the app ecosystem to support free and paid apps that let you do more with the output from the Mark III.
Finally, video. Sony really did some magic here. The RX100 cameras that came before were already stellar video shooters. The Mark III beats them and introduces Sony's new XAVC S codec support, which lets you shoot 1080/60p videos at 50Mbps and clean HDMI output for recording full HD movies to an external recorder. The latter is especially impressive because it's something typical reserved for high-end cameras and camcorders.
The Mark III even lets you shoot videos in dual formats: AVCHD and MP4 concurrently. I don't know of anyone who prefers to do post-production with AVCHD videos, but if that fits your workflow, it's there. And the MP4 availability means you can share your footage easily, or upload to YouTube without hassle.
What's astounding about the RX100 III is the breadth of options for video. You can also shoot slow motion videos at 100 frames per second in XAVC S mode.
For video aficionados, the RX100 III is simply insane, for a camera of any size. Even if you're not crazy about video, just know that these capabilities are built-in and it's there when you need it. There are some memories you just can't capture with photos.
What didn't I like about this third outing with the RX100? Very little. What I do find strange is that Sony's cameras still largely ignore the utility of touchscreens. It's so useful to be able to touch-focus.
And for a video-capable camera, the removal of the hot-shoe and the lack of a mic-in means there's no way to capture high quality audio. Videographers will need to use an external audio recorder and sync in post-production.
These are not deal breakers, but considering the amount of thought Sony put into this camera, these omissions are head-scratchers.
But you know what? The RX100 III is a small package, and I can't emphasise that enough. Sony obviously had to make hard choices, because this camera appeals to a broad range of folks, from casual shooters who want power when they need it to professionals who may want a reliable and powerful backup option when their pro gear crap out for whatever reason.
Personally, I think Sony has a winner with the RX100 III. It's a small, beautiful package that has so much packed into it, you can't help but love it.