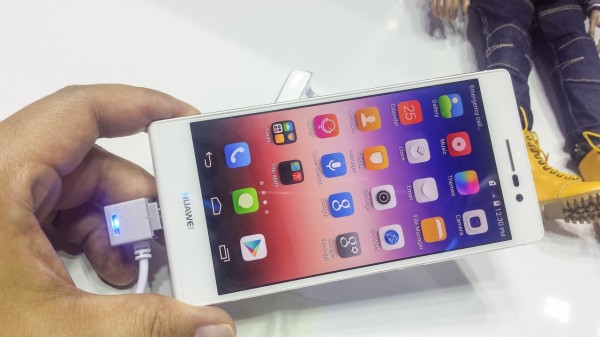 If you think that Huawei's new Ascend P7 smartphone looks familiar, you are right. It looks a bit like a cross between a Sony Xperia and Apple iPhone, and that's not a bad thing.
Shown off today at the CommunicAsia 2014 show here in Singapore, the new top-end phone feels light to hold at 124 grams and just 6.5mm thick.
How similar is it to the Sony? The round metallic power button at the middle looks really familiar. The flat, squarish design is also reminiscent of the Japanese electronics maker, which makes the Huawei phone neat and beautiful at the same time.
The edge-to-edge glass protecting the 5-inch Full HD display also helps, of course, to make things look tidy and attractive. If this was badged "Apple", the Ascend P7 would have many fans going on about how great the design is.
Though it is made by Huawei, the Chinese telecom network equipment maker is increasingly becoming a force to be reckoned with. Certainly, this new flagship Android phone does its reputation no harm at all.
The hardware under the hood is up to scratch. The HiSilicon Kirin 910T 1.8GHz quad-core chip is no slouch and the 2GB RAM is just a tad bit less than the 3GB available in the highest-end Android rivals.
You get 16GB of storage, which is pretty standard, and a microSD card slot that lets you pop in cards containing as much as 32GB of data.
For the camera onboard, a 13-megapixel sensor should be what you'd expect. Again, no frills here, but going by my quick shots at the Huawei booth today, it is fast to focus and fire away. Taking images, at least in well-lit areas, is no issue.
What I'm also impressed with is Huawei's Emotion UI, which resembles Xiaomi's MiUI somewhat and offers the same zip when you skip through menus. No lag at all here, and you shouldn't expect any even with many apps installed.
The interface is also very clean, adding no unnecessary flash when you need to get to certain functions fast.
The only criticism I have is that it looks rather like Apple's iOS interface, despite running on an Android 4.4.2 operating system. Like with Xiaomi, the Android app drawer is gone.
So what you get are icons spread out on various home screens, which can get unwieldy if you have too many apps. This may win over some iPhone "switchers" but can annoy some seasoned Android users.
Still, the Ascend P7 is an attractive phone. Its price, at S$699 in Singapore, is also very attractive. It's essentially a very high-end phone but costs much lower than the roughly S$1,000 asked by Samsung, Sony and HTC.
If you don't need to always carry a popular brand of phone in your hand, the Ascend P7 could prove to be a good-value buy. Definitely worth checking out at the phone shop.