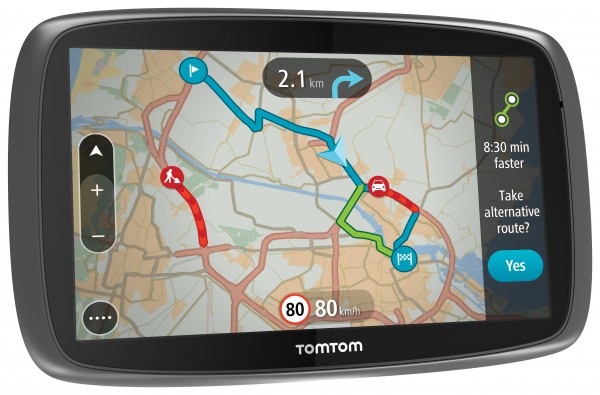 TomTom is bringing live traffic updates onto three new standalone GPS navigation devices in Southeast Asia, with Singapore being the first country in region to benefit from the TomTom Traffic service.
The TomTom Go 50, 500 and 600 series of GPS devices get the feeds by hooking up to compatible Android and iOS-based smartphones. The information is syndicated from users, government agencies and other data sources.
Drivers are promised congestion alerts, alternative routes and more accurate arrival time estimations, among other things.
Such conveniences consume only seven megabytes of data a month, said TomTom executives at a Singapore launch yesterday. That's the equivalent of streaming less than two MP3 songs.
Besides the live feeds, TomTom has also revamped its interface. Its predictive search now finds nearby roads and landmarks as you type, a huge step up from the previous nine-step search process that involved keying in city and street names.
Users can add points along the route for review later (good for taking note of a restaurant that you saw during your drive), as well as to report new traffic cameras and road works to the developers.
When we tried out the devices yesterday, the search and traffic information did work as advertised and the interface was intuitive. There was a distinct jerkiness when we navigated its touch interface, though that did not affect the critical guided driving mode.
Local TomTom Go devices come pre-loaded with maps from eight "Southeast Asian" territories – Singapore, Malaysia, Indonesia, Thailand, Philippines, Brunei, and interestingly, Hong Kong and Macau. Owners of the top-end Go 600 have the added option of downloading a ninth map of their choice for free.
Each device is also guaranteed at least four map updates a year to provide the latest search and directional guidance.
The TomTom Go 50 comes with a 5-inch resistive touch screen and will retail for S$249 while the 5-inch Go 500 (S$299) and 6-inch 600 (S$349) use more sensitive capacitive screens.
Look out for our full review of the TomTom Go 600 soon!