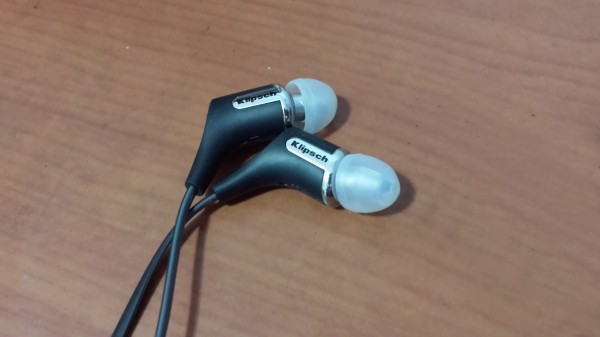 At S$169, the R6i commands a premium over many in-ear headphones available in the market today. Small wonder when you realise this is a Klipsch product, a company known mostly for producing premium gear for audiophiles.
Design
The R6i comes in black and white variants to suit the tastes of the user. Its build quality does not betray its price. Our black review unit had a rubbery, black-matte finish that is complemented by the chrome silver detailing on the left and right earpieces.
Its flat tangle-resistant cable securely connects the earpieces with the controller and headphone jack. The key here is tangle-resistance. While it is less prone to those dead end-like knots we are all too familiar with, it took me half a minute to untangle the cord when I retrieved it from my pocket. If you are less lazy than I am, you will do well with the provided carrying case.
Klipsch's oval-shaped earbuds comes in four sizes. I usually have some difficulty achieving a good fit in my right ear with most provided earbuds and the R6i is no exception. While the isolation and seal in my left ear is impressive when I had them on, I ended up using my own earbuds for the rest of the review.
Performance
In terms of sound, the R6i will be a favourite among dance-hit lovers. Its dual-magnet moving coil drivers deliver excellent bass response – tight, punchy and well-controlled over a range of low frequencies without descending into a muffled mess.
Indeed, the bass was so strong that it was slightly unnerving to even a bass lover like myself. While bass is very much a personal preference, be prepared to dial down the bass on your equaliser.
In the midranges, the bass response on the R6i added some oomph to typically flatter notes like those from a piano and footsteps. That is a plus to me.
The focus on bass however affected the clarity of treble on the higher notes in the human voice, giving the highs a distinct muffled quality that took the shine out of operas and classical pieces.
Conclusion
The R6i delivered quality bass, but it often threatened to drown out the midrange and highs. The focus on low notes was a decision Klipsch made in engineering this pair of in-ear headphones and whether the R6i is for you depends on your taste in music.
If you are a fan of hip-hop, techno or simply enjoy having some bass to go along with your tunes, the R6i will be a splendid companion that fits your ears comfortably. Those seeking a more neutral note to their music collection should look elsewhere.
Finally, for those who do not require the microphone on the R6i, there's the cheaper R6 which goes for S$129.