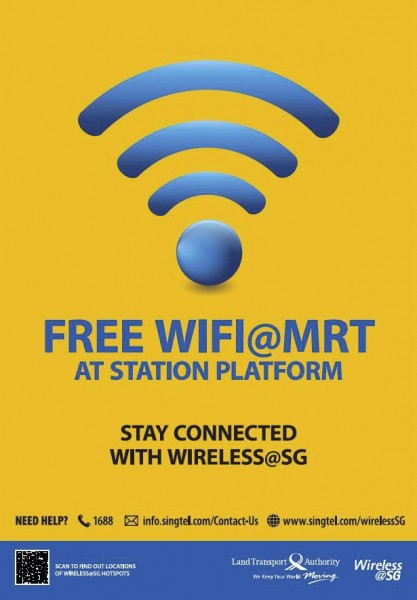 Three of the busiest subway stations in Singapore will get hooked up to the country's free Wireless@SG hotspot service from August 22, enabling users to surf the Web while waiting for a train at the platform.
The City Hall, Orchard and Raffles Place MRT stations are the first to provide the free Wi-Fi service, with the entire North East Line and 12 other busy stations coming online in the next nine months.

While the move should be welcomed – how can you argue against free Wi-Fi – one question that inevitably comes up is how much it would benefit users.
It might help commuters who are stuck waiting for a train, especially during peak hour, but on an average day, they could end up using the Wi-Fi for only a few minutes before boarding a train and getting cut off.
While train stations see high traffic, these are also places where people quickly move on from. They are not likely to hang around – unlike at a coffee shop – just to tap on free Wi-Fi.
What might be more useful is to get the connectivity boosted in the trains themselves, as they travel through the tunnels and above ground.
This calls for extensive network deployments, something that is difficult now with off-service hours used for upgrading and improving a train service that has seen unprecedented breakdowns in recent years, thanks to increased ridership.
That's rightly so, too. Announcing the first Wi-Fi-enabled train stations yesterday, Land Transport Authority executives will know that their first priority is to get the trains running smoothly and getting people to where they want to go.
Free Wi-Fi could help, of course. But it will be more useful on the long, dreary trip on the train home to check up Facebook or watch a quick YouTube clip, and not so much on the train platform.