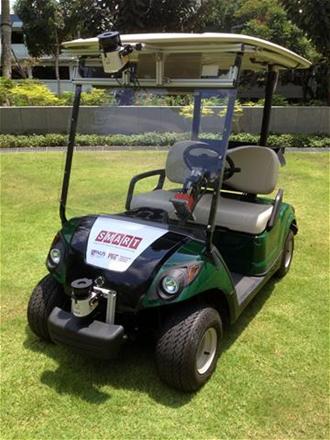 Two driverless golf buggies will soon ply the grounds of the Chinese and Japanese Gardens in Singapore's first public trial of autonomous vehicles.
From 23 Oct to 1 Nov 2014, visitors can book any of the vehicles through a booking website, which lets them zip around the gardens along a programmed route. A buggy is expected to be despatched within minutes, depending on the number of visitors on the waiting list.
The buggies have been fitted with $30,000 worth of sensor technologies, including lasers to detect and avoid obstacles. They can adjust their speeds — up to 10 kilometres per hour — depending on the number of people around them.
Instead of GPS — which has an accuracy of between 50 and 100 meters, making it unsuitable for navigating urban environments — the buggies, powered by onboard computers, will navigate the grounds using pre-loaded maps and live sensor data. They can also communicate with each other to avoid overlapping paths.
Making this a reality are researchers and engineers from the Singapore-MIT Alliance for Research and Technology (SMART) and the National University of Singapore (NUS).
The research group, which is funded by the National Research Foundation, has been testing the buggies at NUS since 2010 in an effort to address the "first and last mile" problem.
The researchers say in cities with good transportation networks, commuters often lack options in getting from homes to the start of the transportation network, say a MRT train station, before leaving the same network to get to their final destination.
The driverless buggies, which form part of the Shared Computer Operated Transport system, will complement and encourage the use of public transport, and reduce the overall commuting time, according to researchers.
As driverless vehicles show no emotion and do not suffer from fatigue that may cause road accidents, transportation experts believe they are safer than those driven by human drivers.
Unlike Google's well-known driverless car that does not have a steering wheel, the Singapore buggy retains its vehicle controls that can be taken over by a driver when things go awry.
Such "manual overrides" are mandated by the Land Transport Authority (LTA) for autonomous vehicle trials on public roads.
Earlier in August this year, the LTA and the Agency for Science, Technology and Research (A*Star) set up the Singapore Autonomous Vehicle Initiative, a joint programme to test driverless vehicle technologies. They will also look into the technical and legal requirements for mass adoption of driverless vehicles in Singapore.
From January 2015, LTA and JTC Corporation will start testing driverless vehicles on public roads connecting Biopolis, Fusionopolis and Mediapolis at the one-north business park.