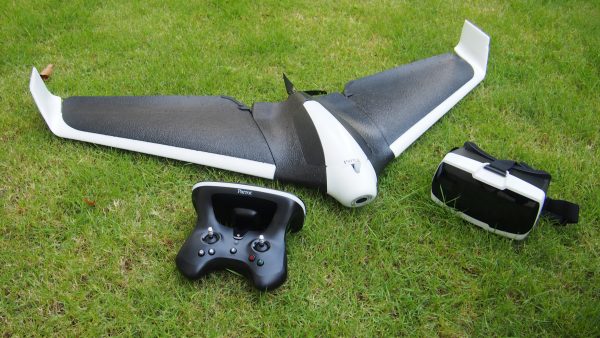 You no longer need a pilot license to experience the joys of flight. Well, at least a virtual version of it.
The new Disco and Bebop 2 FPV from French drone maker Parrot, launched this week in Singapore, promise to offer live, first-person feeds of the imagery captured by these electronic birds.
The Parrot Disco (S$2,399) is a fixed-wing drone that can fly at a maximum speed of 80km/h and is able to record Full HD videos for up to 45 minutes into its 32GB memory space.
The Bebop 2 FPV (S$1,399), on the other hand, is a four-propeller drone with a 14-megapixel fish-eye lens and 8GB of storage, capturing up to 25 minutes of Full HD, digitally stabilised footage.
The live video feed from both devices can be viewed through a virtual reality (VR) headset Parrot calls Cockpitglasses, as long as it has been fitted with a smartphone running the FreeFlight Pro app.
The Cockpitglasses look just like any VR headset, except that it works with any smartphone up to about 5.7-inches in size. The slot-in mechanism of the holder would keep your precious phone safe.
At a media preview this week, an iPhone 6 and Samsung Galaxy S7 fit the holder with room to spare.
Other than providing live feeds from the copters, the app was able to report statistics such as altitude, speed and orientation, fed from the array of sensors carried by the drones.
The clarity of the feed depends on the resolution of the phone. Individual pixels were clearly visible when the Cockpitglasses was used with an iPhone 6, but I am sure things would be clearer on a quad HD phone.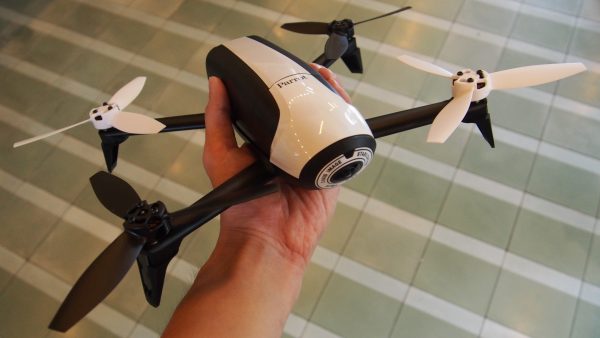 Both devices can be controlled up to two kilometres away with Parrot's Skycontroller 2. It resembled a game controller with two joysticks (one for each axis) and two function buttons, but came with a screen for live video feed and flight statistics.
Both devices carry a removable 2,700maH power pack that could be swapped with ease, which should make the short battery life more palatable.
These drones were pretty light as well. The Bebop 2 FPV, with a glass fibre chassis, weighs 500 grams, while the Disco's carbon-enforced expanded polypropolene frame comes in at 750 grams. The latter could even be folded down to make it easier to transport.
Also announced at the event were Parrot's minidrones, Swing (S$269) and Mambo (S$229). Both come with 1GB of flash memory and a VGA snapshot camera (no video).
The Swing has a unique X-shaped chassis that makes it a good option for stunts in the air. The Mambo is a fun tiny quad-propeller drone. It can be fitted with a cannon that shoots yellow plastic balls, and a grabber to pick things up with. The best part? The accessories come free with every purchase.
All drones will go on sale October 7 in Singapore at electronics retailers, hobby stores and lifestyle shops.