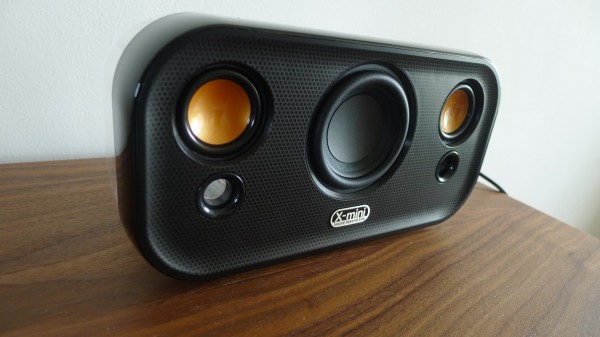 In a crowded field of Bluetooth speakers, the X-mini Clear from Singapore's homegrown audio company wants to stand out with a sound that punches above its weight. 
It's a good thing to sell audio quality, rather than just looks, because that's what an increasingly sophisticated audience wants these days.
The X-mini Clear certainly will impress some users. Without a doubt, it sounds better than many small portable speakers of its ilk. In terms of a clear, distortion-free sound, it delivers as its name promises.
What I particularly like is its delivery of female vocals. There's a presence and a depth that are surprising, coming from something of its size. Not to forget the plastic case that surely doesn't help any unnecessary vibration.
Still, the Clear gives off a sense that there's a live performance in front of you. Instead of a flat wall of sound, you can roughly make out the "3D" image of a singer or a band in front of you.
I have to caution here that this is subject to where you sit. For speakers this small, I don't expect to fill up the entire room – or even if y0u are sitting a bit off centre – with realistic sounding audio.
This is not to say you can't turn up the volume – the Clear does well not to sound distorted even when opened up in a small room – but you won't get the realistic "3D" effect unless you sit right in front of the speakers, at the right height.
I placed the speakers on a wooden shelf facing a dining table at home and the experience was vastly different when I sat on a chair facing it, and when I was on the floor picking up my daughter's toys.
When it's not firing directly at you, the sound can be boxy, undefined and rather loose. The opposite is true if you are listening to it in the ideal position. Here, the clarity is undisputed and vocals come across detailed and full of body.
So, you should think carefully if you want the X-mini Clear to fill a large room. However, if you are using it in a small bedroom, study room or on your desk, it's not an issue. It will make a good companion for a picnic or a trip outdoors.
I listened to Gisele de Santi and Stacey Kent on the Clear and enjoyed how the mid-end was presented. The treble lacked a bit of sparkle, however, and the bass may not extend as low as you'd like sometimes. But I'm being picky.
Looks matter in this market segment as well, so it's nice to see X-mini put some effort into its packaging. The speaker comes in a sturdy box that should hold its grown next to design-savvy rivals like Jawbone, Beats and others.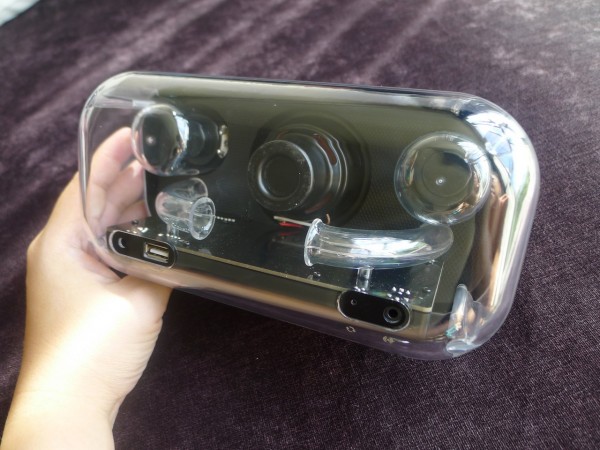 The unit itself is reminiscent of Harman Kardon's transparent SoundSticks, which is not a bad thing, looks-wise. The back part of the Clear is transparent to show off the two 40mm ceramic drivers for the high- and mid-end plus a 70mm subwoofer for the lows.
They are amplified separately, according to X-mini, which takes a page from a hi-fi practice of separately powering various parts of a system to ensure the sound is not muddled up. Quite smart of X-mini.
What I feel the company can improve on is the interface. While I like the soft-touch LED buttons at the top, getting the Bluetooth feature to connect to my phone required a few restarts of the Clear. This should work easily out of the box.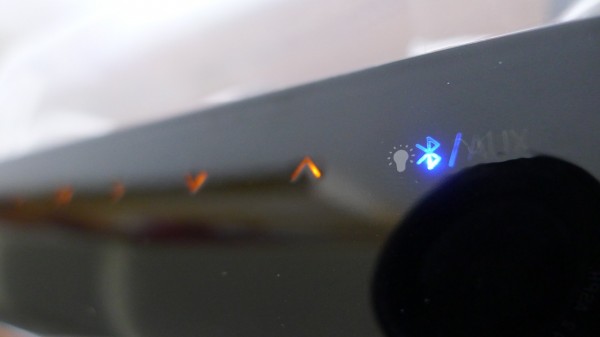 Like most Bluetooth speakers today, the Clear comes with many auxiliary features. The 6,600mAh battery, rated for 10 hours of playback, can also be used to charge your phone as it plays music.
Then, there are the three mood lighting modes, which add bling. Usually, I'd say this is silly, but the fact that they are not shining too brightly in your face, but reflecting against the wall for a softer effect, gets my nod. You can turn them off too, of course.
All in, the Clear is a commendable effort from X-mini, which is known more for its really small speakers (see the Kai 2).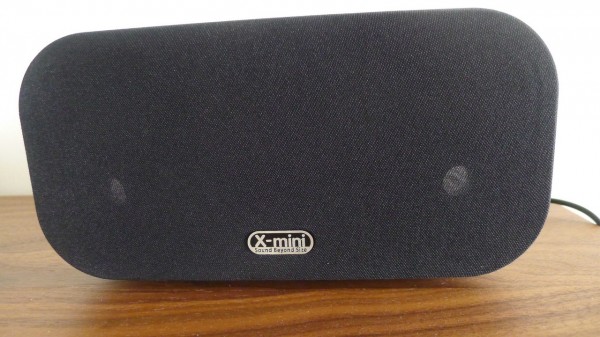 It has some classy touches, like a snap-on cover found in more expensive bookshelf speakers. Plus, I'd say its audio quality will please many users, as long as they know the Clear's limitations.
However, the speaker isn't cheap at S$299. In this market, X-mini faces formidable rivals, which you should also try out. These range from Jawbone's excellent Jambox Mini to Bowers & Wilkins' fancier and much more expensive T7.