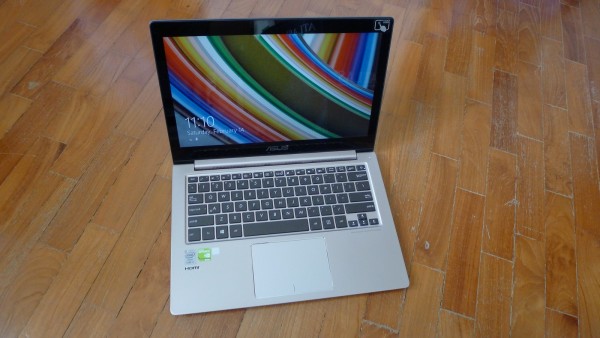 When you think of Asus' Zenbook range of laptops, thin and light are two things that come to mind. The Zenbook UX303 continues that tradition.
Within the 1.45kg frame, the Windows 8.1 machine not only has a powerful Core i7-4510U chip but also 8GB of DDR3 memory and a handy Nvidia GeForce GT 840M graphics chip to handle games and graphics editing.
A key selling point here is the notebook's very sharp screen capable of 3,200 x 1,800. Text looks crisp on screen, while images from your digital camera appear a lot more detailed. Even on a rather small 13.3-inch touch screen, the higher resolution makes a difference.
Still, the first thing you'd notice about this Zenbook is probably its beautiful brushed metal finish that characterises the Taiwanese company's gadgets these days, whether it's a Zenbook or a Zenfone.
I like it that the design is sleek while keeping fingerprints at bay. Some shiny devices really look quite "smudged" when you start using it. Not on this Zenbook.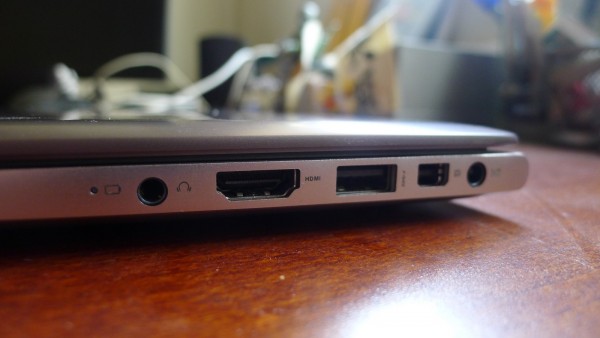 What impresses as well is the full complement of ports. There's not only the expected USB 3.0 ports, HDMI link and SD card reader, but also a useful mini VGA port that lets you hook up to typical projectors still sporting VGA links.
I also like it that Asus has included a USB to Ethernet adapter to hook up to your fast broadband connection at home. Many laptop makers expect you to buy this adapter separately (for about S$50) or rely on Wi-Fi exclusively.
When it comes to ergonomics, the UX303's backlit keyboard is a joy to use. The chiclet layout makes it easier to fire away without making so many typos, while the customised brightness of the back light helps as well.
The big surprise, for me, is the large touchpad, which is one of the best I've come across, beside Apple's MacBooks. Sensitive and easy to navigate around, the Asus touchpad makes it a cinch to zoom in and out by pinching and sliding your fingers on it.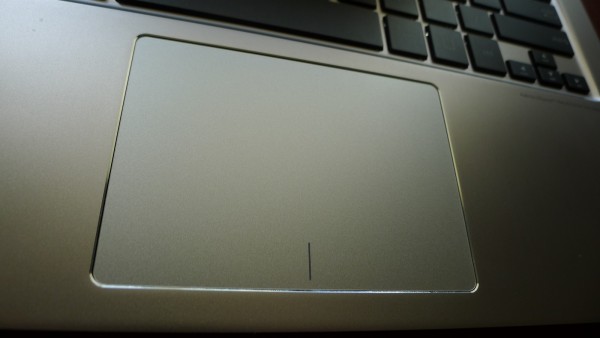 That's when you're not using the touch screen, of course. Like many other Windows laptops, this Asus offering lets you navigate Windows 8.1's Modern interface with your fingers. This is useful when reading a book or flipping through news articles while travelling, for example.
With so many features packed in, how does the UX303 measure in performance? Through some quick tests, I can say it handles regular workloads fine, though it's certainly not a chart-topper.
In PC Mark 8, which measures how well a PC runs everyday tasks, the Asus machine scored 2,411 for a bunch of typical workloads at home and 3,146 for those at work.
Not stellar figures, but within the ballpark of what you'd expect from such a laptop. Certainly, a single solid state drive (SSD), instead of the 750GB hard disk paired with a small 16GB of flash memory, would boost performance here.
Fortunately with 3D performance, the Asus laptop's Nvidia graphics chip lifted it above ultrabooks that often sport the most basic of Intel graphics hardware.
In the latest 3DMark test, which simulates game situations, the UX303 scored 1,307 for the Fire Strike task, 4,936 for Sky Diver, 5,695 for Cloud Gate and 26,621 for Ice Storm.
However, those scores are not top-notch either, in case you are thinking of firing up the latest games and maxing out the eye candy. So, the UX303 remains an ultrabook best suited for work and a little gaming, but not one for folks looking to game regularly on it.
Ultimately, it is a "halfway-house" machine. It brings some graphics muscle in the form of its Nvidia graphics chip, yet has been held back by the lack of a full SSD, which arguably impacts everyday tasks more.
The price tag of S$1,698, though, isn't too bad. Perhaps it would be better for Asus Singapore to have brought in a model with at least a 128GB SSD, even for a hundred bucks or so more.
That would have made this laptop a lot zippier and worth checking out. Sure, you'd need a separate hard disk, but these days, portable drives are cheap.