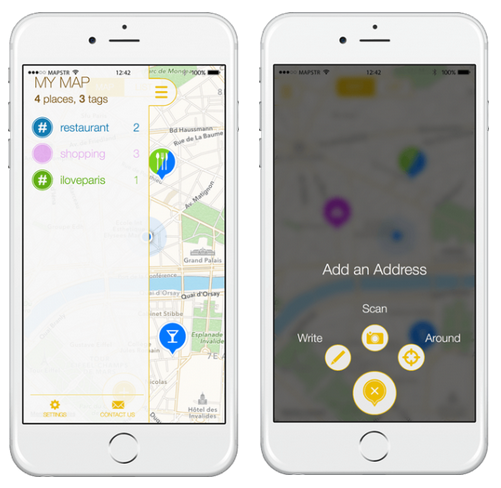 Google Maps is great for finding your way around, but using it as travel planning tool can be a tedious affair.
Sure, you can save places on Google Maps, but there's no easy way of categorising or labelling them – unless you create your own maps with My Maps that's only available through the web version of Google Maps.
A Paris-based start-up is looking to change that, by making it easier for you to save places on a map using its iOS app called Mapstr.
Launched just last month, the app lets you save, organise and visualise your favourite places on a map.
New places can be tagged and added through a quick search or via your phone's GPS which will bring up a list of places around you.
There's also a handy camera feature for capturing a printed address, say, on a business card, to add a new place – though Mapstr's OCR (optical character recognition) tech hardly gets the address right during a quick hands-on with the app.
I can see how Mapstr will be useful to foodies who can tag places based on the types of food (e.g. roti prata, fried carrot cake, rojak), or travellers who would like to list attractions to check out and share them with other Mapstr users.
Indeed, the whole idea of Mapstr came about when its founder Sebastien Caron, was on a trip in Venice, Italy. He struggled with notes full of recommended places from his friends, and tried to find an app to help him organise the information but found none. He then decided to test the Mapstr concept during a start-up event, which he eventually won.
The app seems to be doing well so far, having attracted 50,000 users who saved over 400,000 places around the world. Mapstr has also raised US$800,000 in a pre-seed funding round from selected angel investors.
The app is currently available on all iOS devices, with an Android version expected later this year.
Clarification: Google has recently included access to your maps on both Android and iOS versions of Google Maps. You can also create your maps using My Apps for Android.