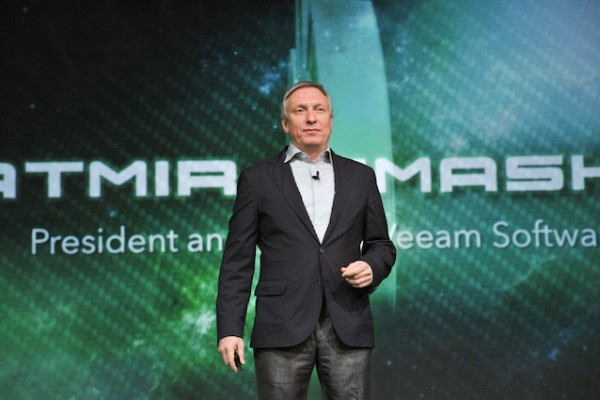 Veeam continues to maintain its momentum in the market for backup and recovery of business applications and data in the third-quarter of 2015, with 17 per cent growth in revenue bookings compared to the same period last year.
The Switzerland-based privately held company also reported an 86 per cent year-over-year revenue growth for its Veeam Availability Suite Enterprise Plus edition, and a 23 per cent year-over-year growth in orders from enterprise customers.
Veeam's growth, especially in the enterprise sector, strikes a stark contrast with the declining revenue performance of the largest legacy backup competitors.
"Our new customers consistently tell us that their legacy backup solutions are failing to meet the demands of the always-on enterprise," said Ratmir Timashev, chief executive officer of Veeam.
"So it's not surprising that, last quarter, we saw our enterprise results increase dramatically as these customers conclude that they need a holistic availability approach for their entire enterprise and not just a pieced together, ad-hoc design using legacy systems," he added.
Veeam has also benefited from growing interest among enterprises in tapping the cloud to backup their data and applications. For one thing, its cloud provider programme saw a 73 per cent increase in the number of transactions year-on-year, and has more than 9,700 service and cloud providers worldwide.
In fact, the growth in the number of service providers offering Veeam cloud services has led Veeam to launch the Veeam Cloud and Service Provider programme, which enables service providers to grow recurring revenue and deliver disaster recovery-as-a-service (DRaaS) offerings.
According to a recent survey, 71 per cent of Veeam partners said over half of their customers are interested in DRaaS when asked to consider both current and potential customers in their target market.
Separately, Veeam launched a free tool called Veeam Backup for Linux that lets companies backup and restore their Linux servers residing on public cloud services and on-premise. The company said the launch of the tool was prompted by demands from customers for an easy way to ensure the availability of their Linux cloud instances and restore them anywhere.
"Backing up and recovering Linux servers is often a complicated and costly process, frequently needing manual intervention or consuming too much of an IT administrator's time," said Doug Hazelman, vice president of product strategy at Veeam.
"Moreover, as hybrid cloud increasingly becomes the industry standard and more enterprises look to run more workloads in the public cloud, it is important to ensure that these public cloud server instances are backed up and can be recovered easily and quickly in order to ensure availability and avoid business disruption," he added.