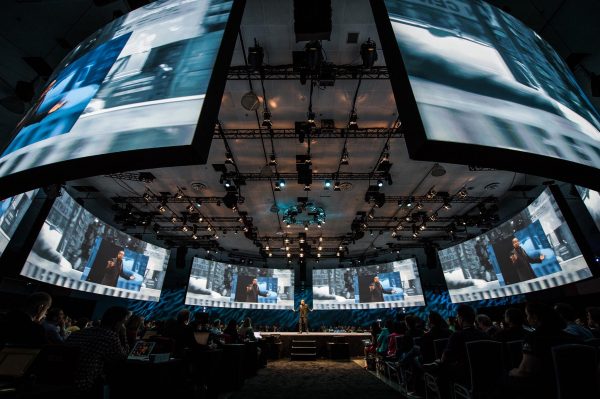 Business software company NetSuite is promising to make it easier for businesses to sell, bill and account for their revenue as they use more digital tools with their operations or go global as they grow.
With updates to its suite of services, customers can sell things over multiple channels online, account for various types of revenues and make sure the books fall in line with new tax rules, NetSuite executives told some 8,000 attendees at its SuiteWorld conference in San Jose on Tuesday.
The company, which provides a range of cloud-based enterprise resource planning (ERP) software including e-commerce, billing and accounting, brought high-profile customers as Cisco, Hyperloop and Snapchat on stage to show off its growing clout against competitors such as SAP.
Chief executive officer Zach Nelson said the complexity of doing business today means companies can no longer rely on humans to make all the decisions, and they have to allow algorithms to help them.
For example, NetSuite's e-commerce software could assist retailers to find the best way to ship a product. If stocks in one country are out, those from another country could be used automatically to fulfill an order from a user.
Even the simple task of a customer collecting an online order at a physical store can stump retailers today, said NetSuite executives, because they do not have a unified system to make such automated decisions and update human operators in real time.
According to NetSuite, 25 per cent of orders that included pick-ups at a store by customers during Cyber Monday failed. And 60 per cent of orders during the busy shopping period had issues with shipping.
In demos today, the company showed its promise to make the process smoother for retailers and other companies. It also aims to make billing and revenue recognition simpler, by making sense of transactions from the time a customer orders a product or service or pays a subscription to the time the revenue is in.
Large companies such as Cisco use NetSuite to manage bills and invoices that range from tens of thousands of dollars to millions of dollars. Some involve one-time payments for hardware, others for a service over time and some for a regular subscription fee.
"If you can sell it, we can bill it," said NetSuite chief operating officer Jim McGeever, of its newly launched SuiteBilling module that aims to unify different revenue streams.
His main pitch at the session today for customers, partners and the media was that NetSuite would solve issues concerning the most complex of business processes.
These include tax and accounting rules that are set to change in the United States and other countries. Companies could have a hard time reconciling their accounts if they do not have tools to accurately recognise the revenue they have earned.
This is where NetSuite's OneWorld system, to be updated this year with new features, could come in handy.
It supports most tax systems in the world, along with different currencies and languages, to cater to companies that have many subsidiaries around the world or deal with suppliers with different accounting systems.
While NetSuite has been enabling small companies to scale up as they open new retail channels or subsidiaries overseas, the cloud software firm says it is also helping big companies think small, or be more nimble, as they transform their operations to cater to more demanding user needs.
Some 30,000 customers use NetSuite today, up from 10,000 in 2006. In the same time, the company's revenue has grown from a modest US$67 million to just under US$1 billion.
For NetSuite executives, this vindicates the early decision to run purely on the cloud. Not only does it allow easier customisation, the cloud enables a nimbler system that serves users better, they argue.
"The cloud has won," declared Nelson at his opening keynote. "Nobody believed it would happen. Today they (the industry) can't get there fast enough."