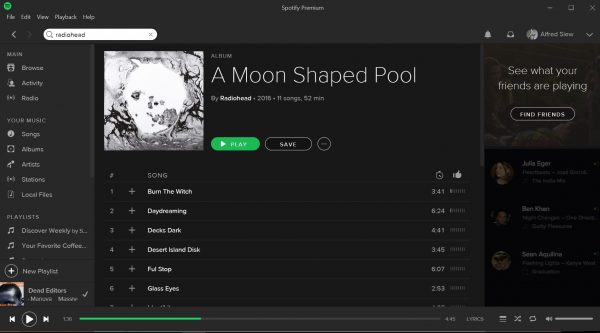 Three years after calling Spotify "the last desperate fart of a dying corpse", Thom Yorke is seeing the latest Radiohead album appear on the music streaming service he seemed to have hated so much.
The famous British band's frontman had lambasted Spotify in a remarkable tirade, calling on fellow musicians to fight the new "gatekeepers" in the industry.
However, Radiohead's latest album, A Moon Shaped Pool, just started streaming to Spotify users yesterday, the same day CD versions went on sale. Fans who wanted it early could download it on the band's own site since last month.
If you haven't bought a CD or downloaded the album yet, you can now listen to it on Spotify either through its free (ad-based) or premium (S$9.90 a month) options.
Less experimental than a few previous albums, A Moon Shaped Pool has garnered good reviews so far. It has gained "universal acclaim" from to critics and fans alike, according to Metacritic, which tracks reviews online.
There has been little said about Yorke's reaction to the latest development. However, you might not be far off if you think he's being a paranoid android about the latest streaming offerings.