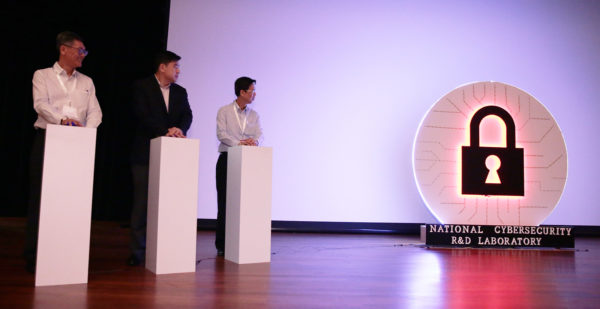 A new S$8.4 million cyber security lab at the National University of Singapore (NUS) aims to provide a realistic environment for researchers and industry players to test out how best to defend against online threats.
The National Cybersecurity R&D Laboratory, announced today at the university, will offer a wide range of ready-to-use tools for these tests. Also available are useful datasets that researchers can use to validate their ideas on cyber security.
The lab, open to students as well, will provide hands-on training in a field that moves rapidly with new threats emerging each month.
Hosted at the university's computing school, the new facility is funded by Singapore's National Research Foundation. It is the country's latest effort aimed at building expertise in cyber security, as it seeks to connect up digitally as a smart nation.
Increasingly, realistic tests and exercises are seen as an important defence against morphing online threats.
Last week, Japanese firm NEC said it was providing cyber defence training for government officials in six countries in Southeast Asia. It had opened a Cyber Security Factory in Singapore last year to provide timely intelligence on cyber threats and deliver round-the-clock security to customers.
One thing the new NUS lab has going for it is scale. It can simulate more than 1,000 computers in a large-scale cyber attack, according to the university.
This would be useful, say, to study distributed denial of service attacks that involve thousands of computers and huge amounts of bandwidth. And NUS aims to expand the current testbed capacity three-fold by the end of this year.
The lab is also positioned as shared national infrastructure to develop solutions for cyber security. This means research institutions and industry players can use it to study how to protect a connected urban transport system, for example.
The university did not say how much it would cost to use the lab. It does hope to spur innovation in cyber security, as threats become more sophisticated in the years ahead.
Professor Mohan Kankanhalli, dean of the NUS School of Computing, said: "Cyber security threats are becoming increasingly complex and multi-faceted. It is therefore crucial to safeguard our infrastructure, networks and data as we strive towards building a smart nation."
He added that the lab would foster greater collaboration between industry and academia and catalyse the development of cutting-edge cyber security solutions.