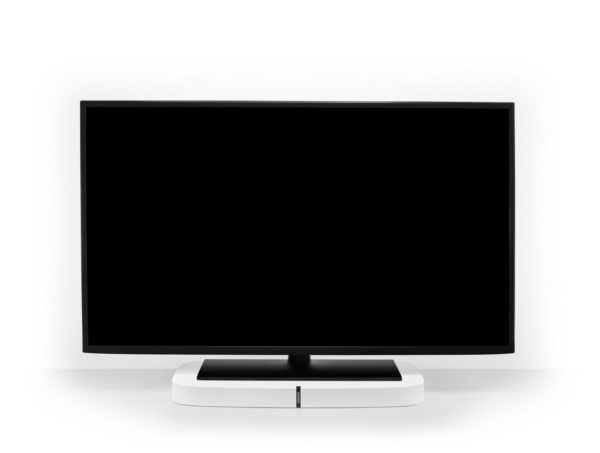 I'll be honest, I was a skeptic when I first saw the Sonos Playbase speaker system. A plastic-looking device that sits under the weight of a TV, it immediately seemed like a poor idea to me. 
I was surprised when it was fired up. There wasn't the annoying distortion I had expected. Nor was there a sub-par experience when playing music. And that's coming from someone who's not a fan of sound bars. The Sonos Playbar, for example, was interesting but had its faults.
The new Playbase, which is meant for folks who don't mount their TVs, isn't perfect either. Yet, it looks likely to impress its target audience of people who can't set up so many speakers at home.
At a media demo on Friday in Singapore, the Sonos folks showed off how such a compact system actually could do well in small living rooms and apartments, which are a norm in Singapore today.
First off, the material for the case is made of a mixture of polycarbonate and glass to minimise the vibration it might pass on to the TV. If this happens, you'll be hearing the frame of the TV instead of the speaker system. Fortunately not.
The Playbase itself has 10 drivers – six mid-range, three tweeters and one woofer – packed into a slim 58mm frame. There's a limit to how much small speakers can do but Sonos has engineered them to work in tandem, and by having an efficient Class D amplifier to drive each one individually.
The two side-firing speakers try to bounce sound off walls to create a surround effect and the woofer brings the low rumble while the rest of the front drivers make sure the dialogue is heard clearly in movies.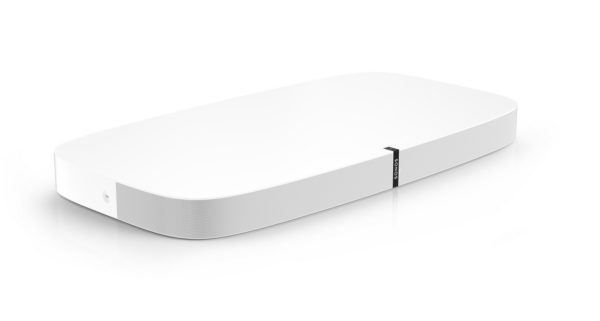 I must say I'm impressed by how far Sonos has taken the system. There is clear separation of instruments in music tracks and the transitions are smooth. A Radiohead track the Sonos folks demo'd – Everything in its Right Place – showed off the positioning that the Playbase can provide.
In other tracks, there was a surprising amount of detail, even though the tracks we heard were compressed instead of lossless. At no time did the Playbar sound strained.
In movies, you'd expect clear dialogue to be front and centre, even as other sound effects are present in a scene. The boom from the bass is evident as well, going by the demos, such as a scene from the James Bond movie Spectre.
I did find the bass a little overwhelming, but I get that bass heads might want to hear the effects more. What I think it might be better improved is the definition – a focused thud is needed sometimes instead of a diffused sort of low-end bass.
Perhaps that's one limit of of the small woofer inside the Playbase. There's only so much air it can move out in such a cramped space.
Of course, Sonos will be happy for you to pair a separate Sonos subwoofer if you want better performance. You can also add surround speakers to make the movie effects more realistic.
Still, there are things you can't upgrade. One thing lacking, as you'd expect, is the air and openness you get from larger bookshelf speakers, for example. Even though the Playbase sounds confident in its presentation, it doesn't have the effortless room-filling ease that you expect from bigger speakers.
Depth is another feature that a small system also cannot provide as well. Sure, it can place audio sources left or right of a listener, but can it make the experience "3D", as in projecting a band dynamically on a stage clearly with reference to the members' various positions? And not just in a flat horizontal line?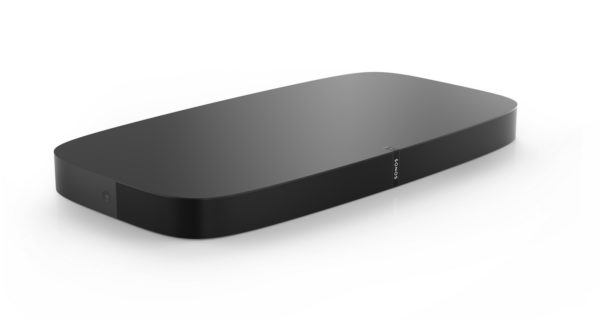 In fairness, that's a little tough on the Playbase, a device that doesn't claim it does better than your high-end kit. What's clear is that the quality of one-piece systems such as the Playbase has improved a lot over the years, thanks to the engineering involved.
The Playbase, for example, uses the air exiting the moving woofer to cool the electronic components, which is ingenious.
I also shouldn't forget to mention that all you need is an optical cable from the TV and a power socket. You control things from a phone app, unlike a complicated hi-fi setup that includes separate components.
For home owners who want a straightforward system that also performs reasonably well, and without worrying about cabling and multiple speakers, the S$1,299 Playbase will surely appeal.
In the tight confines of Singapore apartments, where placing a pair of bookshelf speakers, never mind floorstanders, is difficult, it will find its niche in the living room.