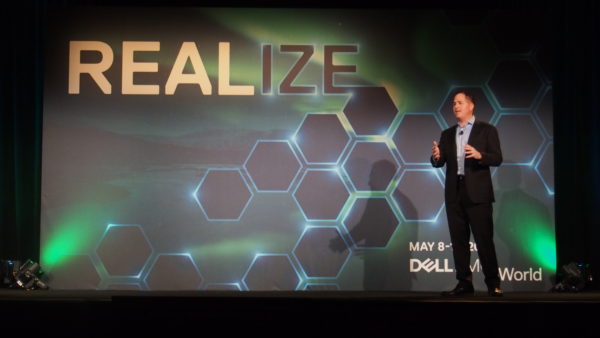 Dell EMC has rolled out monthly repayment plans that promise to cut initial costs for companies embarking on digital transformation, as the tech behemoth prepares to wrestle market share from public cloud providers such as Amazon Web Services.
Unveiled on May 8 at the Dell EMC World event in Las Vegas, the move comes as Dell renews its push for a hybrid cloud solution, which will have its users pick offerings from its software and hardware portfolio to meet their needs instead of opting for a one-size-fits-all public cloud.
Under this so-called flexible consumption model, Dell EMC's VxRail hyperconverged servers, for instance, can be deployed with no upfront cost, and on a monthly payment plan that varies depending on the number of users they serve.
The plans are made available through Dell Financial Services, and comes on the heels of its PC as a Service and Flex on Demand offerings. They allow firms to pay for the computers and storage space they use through flat monthly fees instead of lumpy, cyclical capital expenditure.
Hyperconverged servers integrate processors, networking and storage solutions into one box, and are often cheaper to build and easier to deploy than traditional servers.
This is attractive to customers leaning towards public clouds. The latter often package their offerings in a Software or Infrastructure as a Service model, collecting a straightforward monthly fee for a service that is easy to deploy with minimal manpower and know-how.
Dell head honcho Michael Dell, among others, were at pains to explain during the opening keynote how the pricing model was made possible by the now-private firm's ability to take a long-term view rather than focus on short-term profits, and the integration of Dell and EMC's expertise post-merger.
Also announced at the show was Dell EMC's 14th generation PowerEdge servers that also power VxRail and other Dell EMC enterprise products, and a complete refresh of its enterprise storage offerings.
Speaking to reporters at the event, Dell EMC's president for South Asia and Korea, Paul Henaghan, confirmed that the flexible consumption model for VxRail will make its way to its "tier 1" Asian markets such as Singapore, Australia and Japan, ahead of other nations. However, he would not commit to a rollout date.
Riding strongly into stormy waves
These developments represent another step in what Dell EMC chief financial officer Tom Sweet describes as a push towards unifying its portfolio to offer its customers a complete end-to-end product.
This is a company forging new paths forward in a union that has not always received positive reception.
Eight months into the acquisition of EMC, Dell has consolidated its various brands into a family of businesses under the Dell Technologies umbrella that covers everything from hardware to software to security solutions.
Indeed, Dell executives were keen to articulate end-to-end offerings from its brands at the event, from the PC terminals employees use, to the software layers making sense of these interactions, the server back-end that the software runs on, and security solutions keeping everything secure.
Post-privatisation and acquisition, the new company also appears to be in a stronger position. Even the PC shipments that used to sound the death knell for the business grew for 16 consecutive quarters at a rate faster than its rivals, executives told attendees here.
The company will be up against strong competition, however. Dell EMC's equally-giant rival HP Enterprise has acquired Simplivity, one of the prominent players in the hyperconverged space that Dell EMC appears to be targeting aggressively with this announcement.
The popularity of public clouds like Amazon Web Services and Microsoft Azure also show no signs of abating, and there is no guarantee Dell's flexible consumption model that aims to mimic the former's simplified cost and deployment structure can fend off these challenges.
The bets are big, just as the entertainment at this year's event aims to to impress.
In between a 13-year-old Minecraft boy guru upgrading servers in-game while fending off monsters during a stage demo, and magician David Blaine piercing his palm for a magic performance, Dell will need to pull together its coherent suite of solutions to innovate beyond simple tricks to succeed.