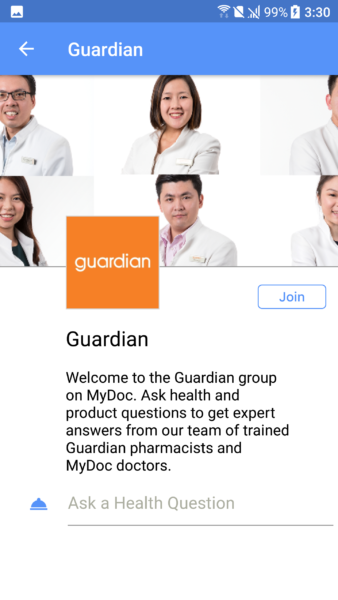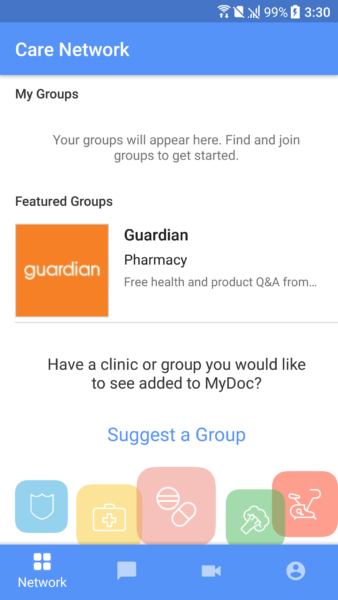 Seeing a doctor in future will be a little different from waiting in line at a clinic today to get some advice for a simple cold or cough, we're told in the age of artificial intelligence (AI) and telemedicine.
Not many people know it here in Singapore, but we can already "see" a doctor remotely, even get medication sent to us to remedy simple illnesses.
The MyDoc app, out on Android and Apple devices, already gives easy access to health consultation services round the clock, thanks to a partnership between Guardian and MyDoc.
It has been out for a couple of years and the technology is continuing to mature. The app is simple to use as well, as I found out this week, after trying it out at a media event.
After registering your details on the app, you can join any available partner groups, such as Guardian. Once in, you can ask questions to a chatbot.
During my tryout, I started off by telling the chatbot that I had a stomachache. It presented me with two options: I could either speak to a pharmacist who can advise me on what products I could use, or I could consult a doctor for more general medical questions.
According to MyDoc and Guardian, all their pharmacists and doctors are registered with the Singapore Medical Council, so users are assured of receiving professional advice.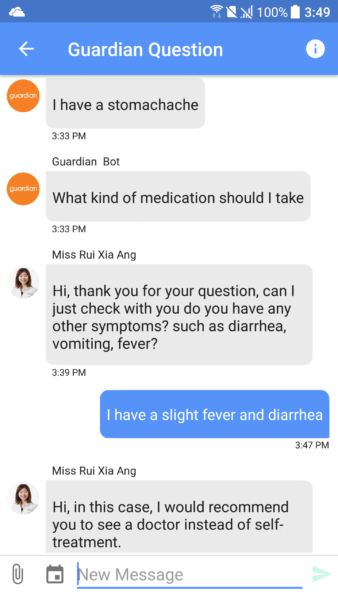 For my trial run, I chose to speak to a pharmacist.
The chatbot then created a separate group chat and added a pharmacist from Guardian into the conversation. I did not have to wait too long before the pharmacist began talking to me to inquire more about my situation. I decided to liven things up, and said that I also had a slight fever and diarrhea.
The pharmacist suggested that I see a doctor instead of treating myself, as there may be an infection in my body.
This is just one of the many types of cases that pharmacists from Guardian receive. Other scenarios could also end with the pharmacist suggesting what kind of medication to take, and the dosage needed.
However, if users did not have the medication at hand, they would still have to either make a trip down to Guardian, or order from Guardian's online store. It would take a day for the medicine to arrive if the order was made before 1pm.
According to Sarah Boyd, CEO of Guardian Health & Beauty for Singapore and Cambodia, the majority of the cases that it receives revolve around the kind of self-medication users can take. They also ask about dosage, as many of them may have medication available on hand to treat mild symptoms.
Boyd said the whole idea behind this partnership with MyDoc was to make it more convenient for users to seek 24/7 reliable advice from their pharmacists, instead of trying to filter through the immense amount of medical information available online, or having to make a trip down to a Guardian store.
However, by no means is this supposed to replace existing medical services by health professionals, she noted.
MyDoc's co-founder and CEO, Dr Snehal Patel, said the service is meant to complement existing medical services to ease the strain on the healthcare infrastructure.
This means people don't have to make so many unnecessary visits to accident and emergency rooms when they could treat themselves with simple over-the-counter medication, he added.
But what does this mean for doctors who are already busy with their own clinics and patients?
According to Patel, doctors who partner with their services often indicate the time frames that they are available to provide consultation, and therefore can usually ensure that they are free to provide consultation.
There are about 50 doctors seeing patients online with MyDoc. Unlike the free services provided by Guardian pharmacists, you will still have to pay to consult a doctor here. The fees are dependent on the doctor you're seeing.
As with any online health service, privacy is an important factor as our health information can be very sensitive.
In response to that, Patel said that MyDoc complies with data privacy protection requirements in Singapore, and the sharing of data with healthcare providers is strictly opt-in.
The service was billed as the first such offering in Singapore in 2015, though since then telemedicine has become more common, especially in larger countries such as Australia, where seeing a doctor may involve travelling greater distances than in an urban city-state.
In Singapore, such services are expected to help address issues with a rapidly ageing population. With a quarter of the population expected to be aged 65 and above by 2030, such digital health services can be beneficial for senior citizens with limited mobility and transportation issues.
Services such as MyDoc could also the start of something useful for all, including young people. As someone in his 20s, I personally do not consult pharmacists or doctors much, as I often can already treat myself with the medication I have.
It is reassuring to know that in the event of an emergency, I can always have a healthcare professional available to consult, instead of scouring through WebMD and scaring myself with a wrong diagnosis.