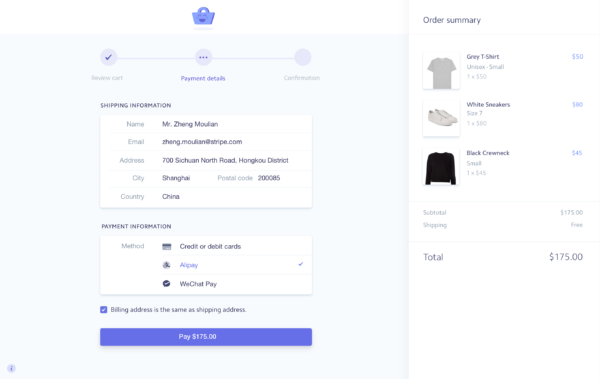 Online merchants seeking to break into the Chinese market have a new, easy way to let consumers pay via Alipay and WeChat Pay, the two most popular mobile payment services there.
Silicon Valley startup, Stripe, said today that it had inked a deal with the companies behind the Chinese payment services to connect up merchants on its online platform.
These merchants can now tap into the growing Chinese market by making it convenient for Chinese consumers to pay for products and services with Alipay and WeChat Pay on their websites.
Together, these two services have 92 per cent of the mobile wallet market in China, which is valued at US$5.5 trillion. Credit cards account for only a fraction of online spending, according to Stripe.
For merchants in Singapore, they first have to sign on with Stripe. They then have to activate the payment methods on an online dashboard. When a sale is transacted, the payment will be made to their bank accounts in Singapore dollars.
The Alipay integration will support both one-time and recurring payments, allowing subscription services to accept Alipay for the first time through a payments platform, according to Stripe.
Alipay one-time payments will be generally available to Stripe users globally, while recurring payments and WeChat Pay support will be in private beta for now, it added.
"By deepening our existing partnership with Alipay, and launching a new partnership with WeChat Pay, we're enabling businesses to easily access the once-impenetrable Chinese market, and in the manner Chinese consumers prefer," said John Collison, Stripe's president and co-founder of Stripe, in a statement.
The deal is another step forward for Chinese payment services, which have led the world in terms of sophisticated and adoption back home. Despite facing competition from global players such as ApplePay, Android Pay and PayPal, they are seeking to expand beyond their home turf.
Just two months ago, Alipay, the payment arm of e-commerce giant Alibaba, made its foray into the United States by enabling its users to pay at about 4 million businesses there.