When I installed a couple of Arlo Pro 3 cameras at my home two months ago, I knew there was no turning back.
Mounting the cameras on the wall permanently, for starters, told me it would be pretty troublesome to take them down. And just days after using these Wi-Fi surveillance cameras, I knew why traditional security cameras look so second-best these days.
For starters, the Arlo Pro 3 cameras did away with ugly wires and troublesome trunking that required professional contractors, which meant time, effort and cost.
The S$899 Arlo Pro 3 kit I got hold of came with two cameras and two different mounts – both are easy to set up and get started with. I placed one at the front gate and one in the back yard.
I used Arlo's much-praised magnetic mount at the front. With it screwed to the wall, you can simply snap on an Arlo Pro 3 camera and have it held with the built-in magnet. Yes, it's strong.
This means easy adjustments without resorting to screwing and turning the camera while you're up on a ladder, with the Arlo app in your phone in one hand and another adjusting the camera.
The other mount in the Arlo kit is unfortunately the regular type of mount. That means you have to screw in the mount itself to the wall and then screw in the camera.
Don't forget that you'll still have to take down the cameras to juice them up from time to time. So, the easier it is to remove them, the less trouble you'll face.
Here, I'm happy to report that I've not had to change out my front camera for the past two months. Yes, it still has 58 per cent of battery life left despite being on all this time.
I can't say the same about the rear camera, which has had to be recharged at least twice during the same period of time. The reason – low signal strength.
Now, Arlo uses its own Wi-Fi base station to hook up its cameras, because the company believes that it has a way to minimise the number of times the cameras are "woken up" by the base station and thus save battery life.
Unfortunately, this means that you have another Wi-Fi network on top of your own home network. In this case, it's doubly ironic because my own Ubiquiti Wi-Fi network offers better coverage than Arlo's base station, at least based on signal strength.
So, as a result of the poorer connection, one of my cameras lasts for a shorter time than the other before needing to be recharged. Certainly, signal strength has determined where I can place the cameras.
Some walls include thick beams that wireless signals struggle to pass through. Thanks to this, I had to place my rear camera on a… washing machine.
Yes, that's because it has to be below a solid beam that seems to block out all signals. Even at its present location, things are not ideal, because the signal is still pretty weak (one or two bars max, on the app).
Of course, you can shift your Arlo base station as well. However, it has to be hooked up to an Ethernet port, so you have to place it near one. In my case, this was where all my other network gear was.
The good news is that the video quality is top notch. The Arlo Pro 3 is capable of 2K videos, which frankly are good enough for surveillance purposes. No need for the 4K versions on the Arlo Ultra, I feel.
The videos are stored on the cloud, at first for free during a three-month trial, then afterwards, at S$4.99 a month for a single camera and S$13.99 for up to five cameras.
I like it that Arlo lets you store your stuff locally as well. So, you just hook up an external drive to the base station and save up on monthly fees. Of course, if a burglar breaks in and breaks your base station, your evidence is gone.
Throughout the past two months, my experience with the Arlo cameras has been good. If you have the cameras armed, a spotlight turns on at night when it detects movement. It's pretty useful if you are coming home late and the corridor or driveway is dark.
What you need to be careful of is how sensitive the motion sensor can be. Remember to disarm the cameras when someone is at home so they don't keep picking up people walking, say, into the backyard. Or your neighbours frequently moving about in the corridor.
That's because the alerts that the cameras trigger suck up battery life rather quickly. Plus, you don't want to get spammed on your phone all the time, either.
Of course, if there's an emergency, you can trigger the siren that's built into the camera or call someone when you're alerted on the app. I tried the siren – it's decently loud.
As for the motion detection, I'd say it generally works well – I know when someone comes home early, for example. However, there have been the occasional false alarm as well.
I have an outdoor blind in the yard, so when the wind blows, often in the afternoon, the Arlo camera sometimes picks up the movement and tells me an animal has come to my house. Yikes.
There are other nifty features like setting the cameras to detect and recognise deliverymen but frankly, that's not a big thing in Singapore. If a delivery man doesn't find you at home, they always call you any way.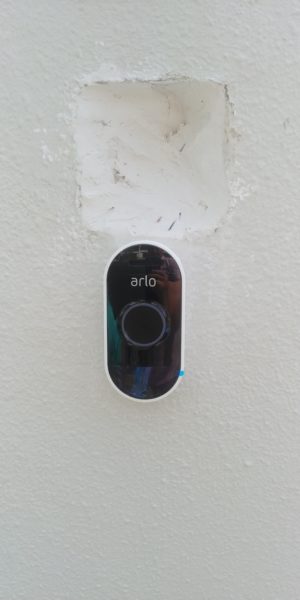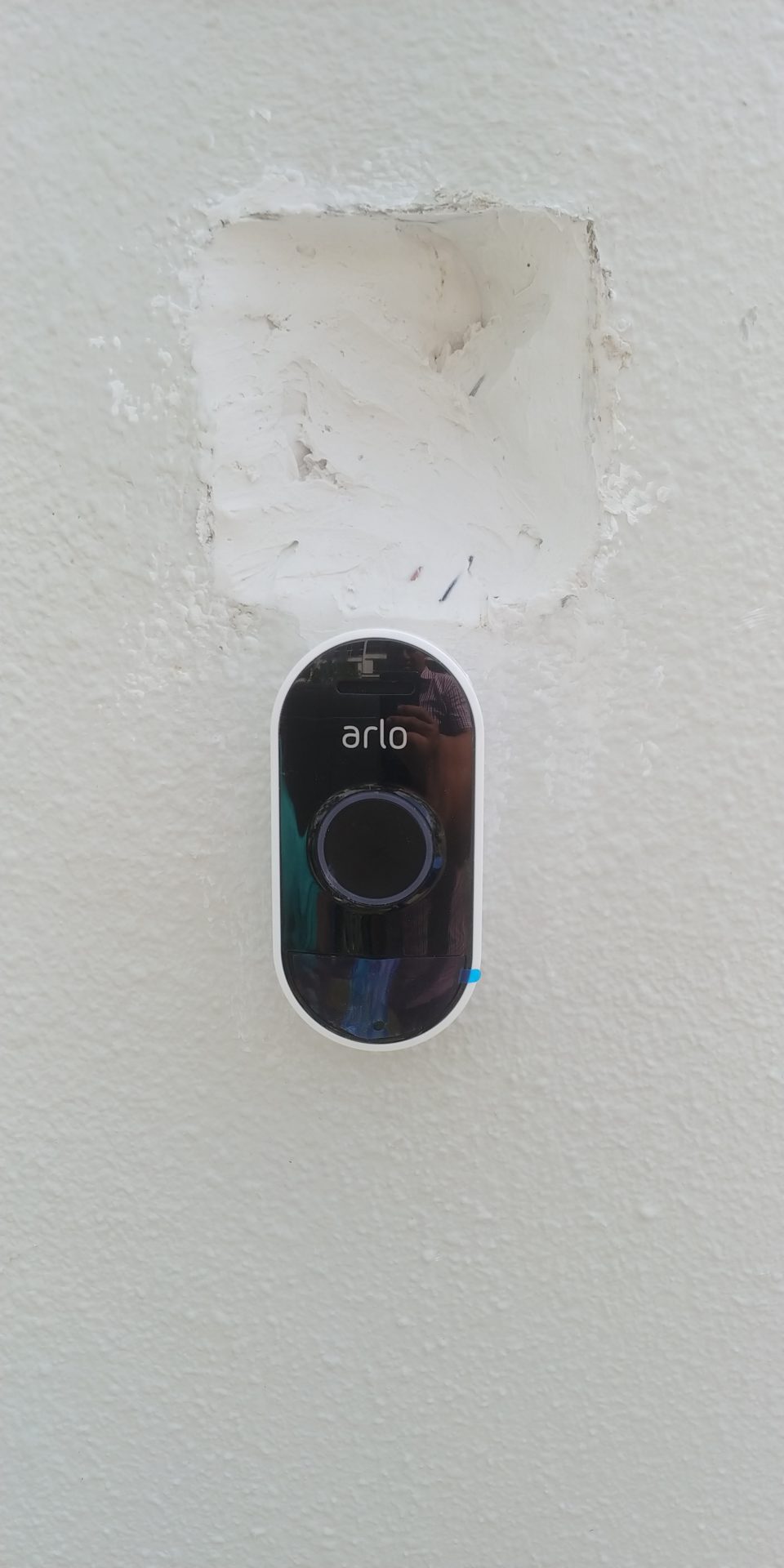 That brings me to the less impressive part of the Arlo ecosystem, unfortunately. Having set up the cameras, I installed the S$129 Arlo Audio Doorbell, which links up to the same base station and cameras.
So, when someone rings the doorbell at the door or gate, it will trigger not just a call to my phone but also a video of the person who's pressed the buzzer.
In theory, that's cool, but unfortunately, the Audio Audio Doorbell is nowhere nearly as sophisticated as the Arlo cameras are.
For starters, there's perceivable lag from the time someone presses the doorbell to the time you get a call. So, that person may end up calling you on the phone already.
Then the audio quality of the call isn't great. Particularly if you're standing at the Audio Audio Doorbell, you often can't make out the audio streamed over wirelessly.
That's when the doorbell actually worked, of course. Setting it up was easy enough – I replaced my old buzzer with the Arlo Audio Doorbell and hooked it up to my existing mechanical chime – but getting the new gizmo to stay online was tough.
When I first installed the Arlo gadget, it rained continuously for days. Each time I went to see the doorbell, it would be soaking wet inside. The batteries were all drenched, despite Arlo's claims that the doorbell was "weather resistant".
Notice that it doesn't have any IP rating, which would indicate that it would be resistant, say, to water splashing on it. So, you have to worry about exposing it to the elements.
In fact, looking at the seams of the unit, you know this isn't something made for the outdoors. So, make sure you have some sort of cover if you intend to use the Arlo Audio Doorbell. No, a regular silicone cover doesn't do much good, as I found.
Ultimately, I'm not sure if it was this lack of waterproofing that caused my doorbell to fail after every few days. The two AA batteries would be totally flat, no matter if I tried lithium or alkaline batteries.
I actually exchanged a unit with the Arlo folks, but the problem never went away. In the support forums, there have been multiple complaints about battery draining too quickly.
One reason, the users suspected, was the motion sensor on the Arlo Audio Doorbell. If you place it facing a busy area – in my case, a good number of cars pass by each day – then the unit will keep being active and run out of battery faster than usual.
One workaround, as one user suggested, was to cover up the sensor. Okay, I haven't tried that but that seems counter-intuitive. It's unfortunate that Arlo has not allowed users to customise the sensitivity on the app.
All said, my experience with the Arlo ecosystem has informed me how exciting and yet unfinished today's smart home gadgets can be. On one hand, you have ease of use and low cost; on the other, there's always the worry of bugs.
That's not to mention the security risks. Arlo has had to patch up its base station software last year, after security experts found loopholes in it. Its rival Ring suffered a more serious data breach in late 2019.
That's before we even talk about how the company has been suspected of sharing user data with third-party companies, according to an investigation that was publicised last week.
Four main analytics and marketing companies were discovered to be receiving information such as the names, private IP addresses, mobile network carriers, persistent identifiers, and sensor data on the devices of paying customers, according to the Electronic Frontier Foundation, a privacy advocacy group.
Where does that leave us? Well, I think some of this smart home technology available today is ready for prime time. The Arlo cameras are one example. Issues remain, of course.
I would be careful to avoid pointing my cameras inwards, or use them in more private areas at home, for example, in a baby room. I would also keep this Internet of Things (IoT) network separate from my home network (using separate subnets or a virtual LAN, for example).
Plus, it's a good idea to always check up on a hardware manufacturer's reputation online – it's no guarantee of your data being totally safe but at least you know better the risks you're taking.