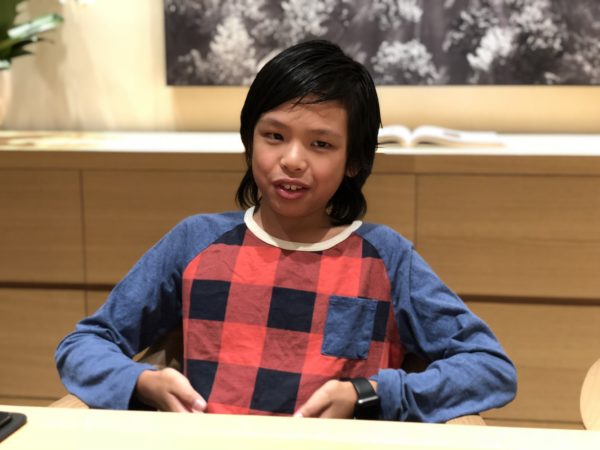 There was only standing room at 5pm yesterday at the Apple Orchard Road store. Kids and adults alike fought for space to sit and stand at Level 2 of the store to hear a 10-year-old boy teach coding.
Melbourne schoolboy Yuma Soerianto was the guest coding instructor and the youngest ever to teach coding at any Apple store around the world.
He leapt to fame when he was singled out by Apple CEO Tim Cook at last year's Worldwide Developers Conference, the company's developer event held in San Francisco. He was the youngest attendee there.
Cook was impressed that he could develop an app on the flight from Melbourne to San Francisco. The app was to help his parents work out the price for goods by adding the local sales tax and doing the currency conversion when they go shopping for souvenirs on the trip.
While Yuma was Singapore for a holiday with his parents, Apple took the opportunity to have him teach a coding class at the store here.
Speaking through a headset, he introduced himself via a presentation beamed on a big wall. He picked up coding when he was 6 years old when he was bored with school work. A self-taught coder, he picked up his skills from online courses including one offered by iTunes U. So far he has developed six mobile apps.
For the coding lesson, six kids were picked to stand up front and given iPads to begin coding. He guided them to code part of an augmented reality game called Let's Stack, a game he had developed himself. He taught the kids and the rest of the audience one part of the game, that is how to stack objects on top of each other.
Looking over their shoulders, he went from one kid to the other, making sure they were doing the right things. The adults and others in the audience followed the different steps that were projected onto the presentation screen. At the end, the audience was impressed, rewarding him with a long applause.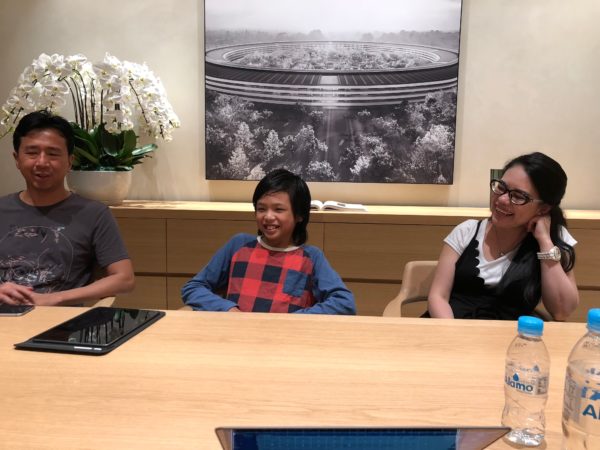 Earlier, Yuma had spoken to the media about his start in coding and his ambitions. With his parents, Hendri Soerianto and Dollies Halim, sitting on either side, he said anyone can learn to code.
"It doesn't matter what age you are," he stressed. Here was a geek but no nerd. He interacted with the media very naturally, answering questions quite straightforwardly.
Slight of build, he speaks confidently and his toothy grin is charming. An Indonesian, he was born in Singapore and now lives in Melbourne.
Did it bother him that he was teaching coding to people who were older than him? No, so long as they wanted to learn, he answered.
The precocious boy is ambitious, he aims to make apps that can revolutionise the world and to teach kids coding. Computer science is what he wants to study when he grows up.
The one app he wants to make is one that can control operations in the house, like cleaning it and doing the laundry. But he quickly added: "It's not possible right now because tech isn't advanced enough."
His parents didn't mind that he started coding at an early age. Mother Dollies Halim said: "He loved video games and surfing the iPad. And he had used the devices in a positive way. He was curious about how a video game can be improved, how people make apps. He asked his dad and that's how he started."
He doesn't spend all his time coding, she added. Other activities taking up his time are taekwondo and piano lessons. Bedtime is strictly 8.30pm.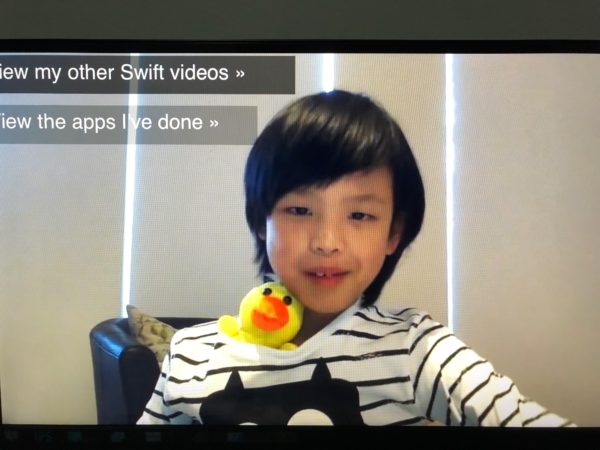 For wannabe app developers, Yuma suggested these five tips:
1) Be curious: Curiosity can spark innovative apps and make amazing things.
2) Don't give up: When you learn to code or make something, you are bound to face a problem, so don't give up and push through.
3) Search engines are your best friends: If you are stuck in a problem, look online – other people may have been in the same place as you, and they could have found many solutions.
4) Plan ahead: Sketch out your apps or projects before you make them, it makes coding a lot easier if you know what you're doing.
5) Have fun: There are many fun and exciting things to make when you code, so don't worry and have lots of fun.
He has a YouTube channel called Anyone Can Code where he teaches coding. From the comments left on each of the YouTube lesson, it's clear his students are both kids and adults.
Each of his videos has about 5,000 to over 20,000 followers. One 50-year-old viewer called Fire Sky Cam commented on YouTube: "I'm 50yo (years old) and just learning about coding. I'm not too proud to say I'm happy to have someone who is younger teach me something."