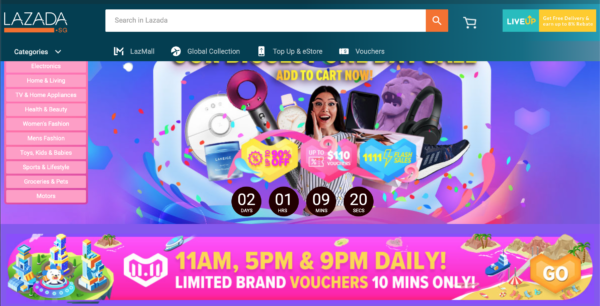 November is the month of crazy shopping deals as e-commerce vendors jostle for the shoppers' dollar. Off the block is Southeast Asian e-commerce giant Lazada which will hold its annual online shopping bonanza this Sunday on November 11.
Bargain hunters can expect 50 milllion deals from electronics to nutritional products. More than 400,000 sellers and brands are participating in this one-day event billed as Lazada 11.11 Shopping Festival.
Barely 10 days later, another mega e-shopping event kicks off in the United States on November 23. Called Black Friday, it comes on the back of the Thanksgiving holiday, extending through the weekend, ending with a massive price slashing sale on Cyber Monday.
The two events are gigantic online sales attracting tens of millions of customers. Lazada is heavily promoting its 11.11 shopping festival in their key markets in Southeast Asia including Indonesia, the Philippines and Thailand. Bargain hunters will drool over the deals, some with discounts as deep as 90 per cent.
Black Friday deals are already appearing on the US e-commerce sites led by Amazon and other well-known departmental stores like Macy's, Home Depot, Walmart and Staples. Bargains are available for similar product categories as Lazada's mega e-shopping event. Not to be left out, Lazada will also have Black Friday deals in Singapore, Malaysia and the Philippines.
E-commerce is a cross-border activity today. Shoppers sitting in their bedrooms anywhere in the world let their fingers do the shopping, mostly on their smartphones, and have the products shipped to them, mostly for free or at very low cost.
And it is a lucrative business. Industry observers believe Lazada will ring in higher revenue than last year's sales of US$123 million (S$167.4 million). But it is the Black Friday sales that is a whopper.
According to Adobe Analytics, American retailers earned a record US$7.9 billion last year. Expect the cash registers to ring in even more sales this year.
To get the sales, Lazada is going all out to target millennials and attract customers to its online stores. It unveiled two interactive mobile game apps where they can start collecting vouchers for their purchases.
Customers can also start browsing the online catalogue, pick items for their wish list, ready for the sale which starts on the dot at 00.01am on November 11 for 24 hours.
For Black Friday, the US stores have also listed their online catalogues with deals on similar categories. The additions are that there are more winter coats and hats, boots and travel luggage for the year-end holidays.
Deals are already being leaked, like 10 per cent discounts on Apple gift cards – a rare discount. Go to staples.com for this but the bummer is you have to be a US-based customer.
Lazada shoppers in Southeast Asia can expect some free shipping with their purchases while those who buy from US over the Black Friday-Cyber Monday weekend can expect to pay for shipping.
The good news is that some US online stores offer free shipping for purchases over US$50 or more. Some stores may not ship to Singapore so shoppers will need an extra step of sending their US purchases to an e-concierge like comgateway.
They provide the US address needed by the stores. The US shipping maybe free but the e-concierge will ship them here for a fee. And it is not cheap.
The only advantage I experienced from shopping on Amazon, Macy's and other US stores is that there are goods which are more affordable there. Like linen sheets of 400 threadcount or US-made products.
There are also greater variety of brands available online like kitchen ware, sports shoes and hiking gear. Then there are the e-books of which the latest titles are often unavailable here. Shoppers will have to consider the cost of shipping to see if their purchases add up to a good bargain.
Happy bargain hunting!