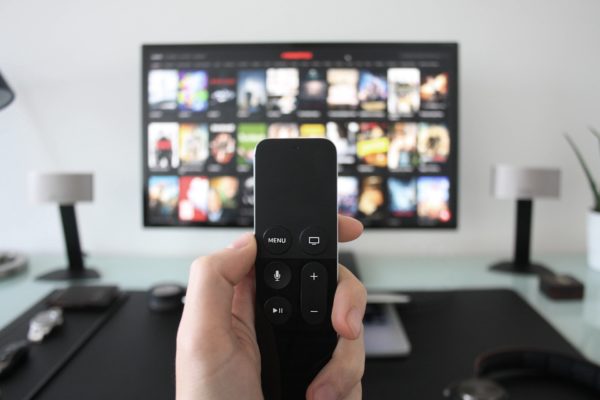 Brought to you by UBM
The idea of interactive TV is not new.
Instead of being passively bombarded by images, couch potatoes are expected to lean forward – not just lean back – and participate actively when they watch their favourite programmes. That idea, at least in concept, has been around for decades.
The difference this time is that the interactive programmes are now real. Netflix's launch of interactive shows, such as the groundbreaking Black Mirror: Bandersnatch late last year and Bear Grylls' You vs Wild in April this year, has changed the way viewers respond to TV shows.
These "choose your own adventure" TV shows let viewers decide how the story plays out. They control how the show develops, up to an extent.
In Bandersnatch, a viewer can pick an option to reveal a secret or select a wrong one that would get the protagonist entangled in a crime. In You vs Wild, he could tell adventurer Bear Grylls to go up the right path and rescue a lost dog or plunge him into deep trouble in the untamed wilderness.
While such shows have been the exception rather than the norm, Netflix expects to follow up with more interactive programmes in future. It has managed to overcome something that broadcasters have failed to in the past – make the interactivity work on multiple devices, including smart TVs, streaming devices and PCs.
Interactive TV is the latest sign of change in an industry that has undergone a dramatic disruption in the past five years, thanks to the popularity of streaming services such as Netflix and Amazon.
Old pay-TV set-top boxes are becoming less popular, replaced by streaming services that can be accessed from any device. To cater to new user habits, traditional pay-TV players have also jumped on the streaming bandwagon, or at least discarded their old playbook.
In Singapore, StarHub revamped its cable TV lineup in April by allowing users to switch between programme packages any time they wish. Plus, they get to have a cable set-top box without paying rental fees.
StarHub also has its own streaming service, after launching a white-label Android set-top box that uses Google's Android TV operating system last year. This gives viewers access to many of the cable operator's popular programmes.
Content owners are also getting in on the act themselves. Besides working with platforms such as Netflix or StarHub, they understand that original content sells on its own.
Early this year, HBO launched a streaming service via its Go app in Asia, breaking away from the exclusive deals it had signed with pay-TV players for decades.
HBO's programmes are still available on platforms such StarHub or Singtel in Singapore, for example, but users can now directly pay HBO a monthly fee to use the streaming app for popular shows such as Game of Thrones.
The same has happened with Hong Kong's TVB as well. The creator of popular Cantonese TV dramas watched by the Chinese diaspora around the world launched a streaming app for viewers outside Hong Kong in recent months. The fee is under S$6 a month in Singapore.
With more players in the game, it is no wonder that the subscription video-on-demand market is expected to reach close to US$25 billion in 2019 and grow to US$28 billion by 2023, according to research firm Statista.
Surprisingly, user penetration is only at 14.6 per cent and is expected to hit 16.3 per cent in 2023. That means there is still a large untapped market for industry players.
However, not every show is easily delivered over streaming networks. While the technology has matured over the years to enable fast switching of programmes and smooth delivery of videos, one category of programmes can still be challenging at times.
Live shows could be the next frontier for broadcasters in the years ahead. Not just streaming major sports events but also educational shows or even live auctions can be delivered to homes with more interactivity.
For example, a live show could be created almost like an interactive stage play, with actors who react to an audience. Here, the audience could ask questions, change the narrative or even vote on a decision. They can interact in many other ways by more actively participating in the programme.
"Today, the latency of online video stream delivery is typically too long to provide the viewing experience users expect, resulting in unhappy viewers and lost revenue," said Jaheer Abbas, senior director for India and Southeast Asia at Limelight Networks, which helps deliver content to viewers worldwide.
Fortunately, new live streaming technology now makes it possible to deliver live streams in less than a second, enabling exciting new experiences that engage viewers in multiple ways, he noted.
With new interactivity features, Netflix has turned audiences into key decision makers in the creation of shows. And shows like Bandersnatch are just a preview of what is to come.
As more users turn to smart TVs, tablets and PCs that are inherently interactive with a streaming service, the opportunity is there for content creators to encourage more participation from audiences.
"For viewers, watching streams in real time with interactive data integrated with the live video enables new possibilities for how they can interact with you and each other," said Abbas.
Catch Limelight Networks at BroadcastAsia2019, an industry event for game-changing and innovative technologies, from 18 – 20 June at Suntec Singapore. Sign up to visit here and learn more about the future of broadcasting!