The biggest gaming event of the year, the Electronic Entertainment Expo (E3), took place from June 11-13 at the Los Angeles Convention Center. But some of the biggest announcements actually took place a week leading up to E3.
Without question, Microsoft stole the show this year by going all out to wow the audience with announcements of new hardware, a new way of delivering games, newly acquired game studios, upcoming games and even a celebrity appearance.
Nintendo announced more games for the Switch, while Sony PlayStation was sadly absent, so there were no updates of Death Stranding, Ghost of Tsushima nor the Last of Us II.
But a new trailer for Death Stranding was revealed before E3, and the game is supposed to be launched November 8, 2019, so we won't have to wait too much longer. Google also did the "kiasu" (afraid to lose out) tactic of announcing the Google Stadia a week before E3.
Seems like breaking news ahead of E3 is becoming quite the thing – perhaps "kiasu-ism" is the trend for gaming announcements?
The Future of Gaming
The biggest news on the future of gaming includes Microsoft's new console known as Project Scarlett, as well as streaming games that are platform agnostic.
Both Microsoft and Google are developing streaming capabilities – Microsoft's xCloud will stream Xbox games on mobile devices while Google's Stadia will stream games that can be played on browsers.
Microsoft's new console, the Xbox Project Scarlett, is developed in partnership with AMD. Touted to be four times more powerful than the Xbox One X, Project Scarlett will be running on GDDR6 RAM, and can deliver 8K gaming and at 120 frames per second, and will be using SSD as "virtual RAM".
Project Scarlett will be launched "Holiday 2020", which I assume is just before Christmas, and will be launched together with Xbox's key gaming franchise in the form of Halo Infinite. View the Project Scarlett E3 2019 reveal trailer here:
Still on Microsoft, the company also announced Xbox Game Pass for the PC, a subscription based model where you can play some 100 Xbox titles on the PC at S$6.99 per month.
For those who own both the Xbox as well as the PC, there is the Xbox Ultimate Pass for S$19.99 per month which grants access to Xbox and PC games as well as Xbox Live Gold for playing games online.
Speaking of stealing the thunder, Google dropped a beefy announcement for Stadia a week before E3 2019. Google's Stadia is an online game streaming platform that will deliver games on Chrome browsers, so PCs and Android devices can simply launch the Chrome app to run the games immediately without waiting for the game to download.
Initially, only Chrome OS, Chromecast, Chrome browsers and Google Pixel 3 and 3a phones support Stadia but Google says it looks to expand to more screens in the future.
For playing on a TV screen in the living room, a Chromecast Ultra device needs to be hooked up to the TV set. To play streaming games, you will have to subscribe to Stadia Pro, the game streaming service, at US$9.99 (around S$13.50) per month. Stadia also offers a subscription-free Stadia Base where you need to buy the game titles you want to add to your Stadia library.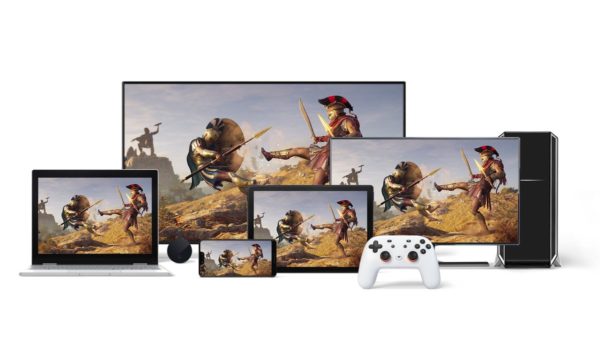 According to Google, gamers with 35Mbps internet connection speed can experience the highest quality of games at 4K HDR graphics at 60 frames per second and 5.1 audio. For those with 10Mbps connection (the minimum requirement), games can be delivered in 720p graphics at 20 frames per second and in stereo sound.
Google Stadia will launch in North America and Europe in November 2019. The rest of us in Asia will just have to wait until 2020 when Google expands its Stadia service to other parts of the world.
Some games in Stadia's lineup include Baldur's Gate 3, Gylt, Tom Clancy's Ghost Recon Breakpoint and The Division 2. Google will also offer Ubisoft's new subscription service, UPlay+, on Stadia so gamers will be able to play over 100 Ubisoft games on the said devices that support Chrome. Uplay+ will be launched in September this year, with a rather hefty price tag at US$14.99 (around S$20) per month.
Personally, I am psyched about the idea that one can play games that are traditionally playable only on consoles or PC, on whatever device you happen to have with you, be it your laptop, tablet or even a mobile phone if the screen isn't too tiny for you.
When that happens, you will not need to buy different versions of your favourite game for each platform, or try to move or convert saved games from on platform to another.
The main concern is how playable the games can be over the internet or WiFi with intermittent connections, especially in many parts of the world where internet connection is spotty.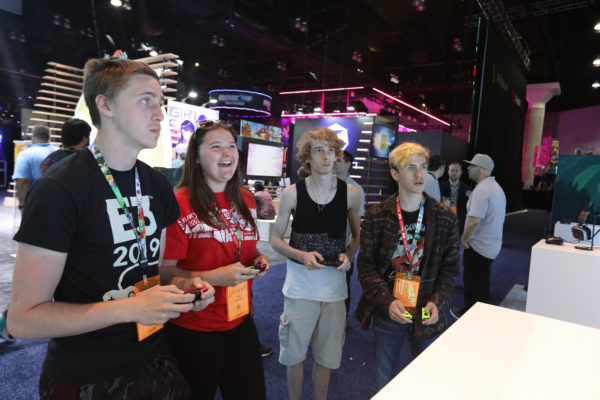 Most Promising Games of E3 2019
At this year's E3, there are some really exciting titles, some that promise a lot with beautiful trailers but no show of gameplay, some rather "meh" ones that left the audience scratching their heads and some clearly milking a successful franchise for all it's worth.
Apart from the missing PlayStation games mentioned earlier, some highly anticipated titles like Elder Scrolls 6 and Starfield only had passing mentions, and for Assassin's Creed, we got nothing except that Ubisoft revealed that their orchestra, Assassin's Creed Symphony, is going on tour.
If you only have time for a few trailers, here are some that you won't want to miss:
1. Cyberpunk 2077
By CD Projekt Red for PC, PS4 and Xbox One (April 16, 2020)
Two words: Keanu Reeves! He's breathtaking! Yes, our man from The Matrix and John Wick will be playing a character known as Johnny Silverhand in Cyberpunk 2077, and he appeared in E3 in person during Microsoft's session to introduce the game.
Created by CD Projekt Red, whose claim to fame is Witcher 3: Wild Hunt, Cyberpunk 2077 is an open-world role-playing game (RPG) set in the future where self augmentation and body modification with technology is, to quote Keanu, "an obsession".
That reminds me of the whole premise of Deus Ex, which was pretty mind-blowing when released back in the day. Will Cyberpunk 2077 be the Deus Ex of today? The trailer shows the mind popping world, fabulous graphics and visually arresting cinematic treatment.
Recover from your swoon and check out the trailer here:
2. Final Fantasy VII Remake
By Square Enix for PlayStation 4 (March 3, 2020)
Finally! Since the last time Square Enix revealed the rather brief teaser in 2015, the world waited with bated breath for more of Final Fantasy VII Remake.
And finally in this year's E3 we see much more of the realistic rendering of the beloved characters, a whole new combat system that looks more real-time than turn-based, and more stunning cinematic action. Do note that only the Midgar section will be completed – we will need to wait longer for the adventures beyond Midgar.
Wipe away your tears of joy and watch the new trailer here:
3. Minecraft Dungeons
By Mojang for Windows, Xbox One, PlayStation 4 and Nintendo Switch (Q2 2020)
A dungeon crawler action RPG set in a world built with Minecraft blocks that looks too cute to be true? Sign me up now!
Minecraft Dungeons is a standalone game, completely separate from the Minecraft we know, and there will be no mining or crafting. Instead, the trailer shows a party of four characters of seemingly different classes blasting and hacking away at familiar skeleton, creeper and zombie mobs, as well as some new hostiles and a big bad boss known as the Redstone Monstrosity.
There are weapons to be picked up, and can be dragged and dropped from the inventory to equipment slots on the character.
Sure, it's a spin-off of the overwhelmingly successful Minecraft game but I have to say it really does look quite fun! Go pixel happy and check out the trailer:
4. Halo Infinite
By 343 Industries for PC and Xbox One (Holiday 2020)
"Welcome back, Chief!" Oh, how we have missed you, Master Chief! The trailer for Halo Infinite shows Master Chief being recovered from space and revived in a Pelican ship by a lone pilot who seemed to have been drifting around for quite a while. The trailer also showed a severely damaged Halo ring world, and at the end, Master Chief's encounter with Cortana. Will he destroy her?
Catch our Halo hero here:
5. DOOM Eternal
By id Software for Windows, Xbox One, Playstation 4, Nintendo Switch (November 22, 2019)
Craving for ketchup, anyone? The sequel to DOOM (2016) promises more frenetic shooting, more blood and gore, and a lot more demon slaying satisfaction.
The game looks great with graphic detail of chainsawing a demon to bits, and blowing up lots of hellspawn into gigantic red kablooie. There's even something that looks like it can clamp and pop demon's head like a pimple.
And we can see more crazy anti-gravity jumps and shooting in midair with weapons that look absolutely satisfying to shoot. Get over your gravity sickness and watch the story trailer here:
And what's a DOOM game without multiplayer? There's even a new 2 Demon versus 1 Doom Slayer multiplayer mode – check out the BATTLEMODE Multiplayer teaser here:
6. Watch Dogs Legion
By Ubisoft Toronto for PC, Xbox One, and PlayStation 4 (March 6, 2020)
The new Watch Dogs Legion game set in post-Brexit London shows gameplay with different DedSec Operatives including a hacker granny who's a retired assassin.
I love the idea of playing diverse operatives to solve puzzles. The gameplay trailer shows lots of stealth, hacking and shooting – what more can one ask for? Now this is one title I look forward to!
Check out the trailer and gameplay footage at:
7. Animal Crossing – New Horizons
By Nintendo Entertainment for Nintendo Switch (March 20, 2020)
A new Animal Crossing game! New Horizons is a charming life survival simulation where you start a new life on a deserted island and build a home to call your own.
To do that, you will need to cut down trees, mine, farm, collect resources and craft items for your new home. And you can hang out with loads of cute characters! I found Animal Crossing games therapeutic and relaxing, and this looks like a great game to relax with.
Embrace your cutesy side and watch the trailer here:
8. Elden Ring
By FromSoftwareInc for PC, Xbox One and PlayStation 4 (release date not announced)
Another interesting title is Elden Ring, a third-person action fantasy RPG in world created by Hidetaka Miyazaki of Dark Souls fame and George R. R. Martin of, what else, A Song of Ice and Fire fame.
The game will be an open world game that will feel a lot like Dark Souls, and backed by lore created by George R. R. Martin's incredible imagination. Prepare for a dark, moody and gothic adventure with dark and twisted characters.
Stop complaining about the Game of Thrones and check out the trailer for Elden Ring here:
9. Wolfenstein Youngblood
By MachineGames and Arkane Studios for PC, Xbox One, PlayStation 4 and Nintendo Switch (July 26, 2019)
A spin-off from the original Wolfenstein story, Wolfenstein Youngblood is a two player co-op game with two lead female characters showing off some crazy Nazi shooting action with what seems to be a magnificently varied arsenal.
You play the Terror Twins Jess and Soph Blazkowicz on a mission to find their father in Paris. And he is none other than BJ Blazkowicz, who was the original Wolfenstein protagonist. If you can't find a buddy to play together, the game offers an AI companion to partner with you.
Watch the Terror Twins in action here:
10. Gods and Monsters
Ubisoft for PC, Xbox One, PlayStation 4 and Nintendo Switch (February 25, 2020)
And from the creators of Assassin's Creed Odyssey comes… not an Assassin's Creed game but a rather cutesy looking game starring mythical Greek gods and creatures, aptly titled Gods and Monsters.
The game is described as a "storybook adventure about a forgotten hero on a quest to save the Greek gods." And they promise battles with mythical creatures and exploring "a beautiful fantasy world where tricky trials, treacherous dungeons, and heroic feats await."
It's not Kassandra, it's not Alexios, it's not an Assassin's Creed game. Nonetheless, after falling in love with ancient Greece in Assassin's Creed Odyssey, who can pass up the chance to go back to beautiful Greece and do battle with mythical monsters? Don your Spartan helmet again and watch the trailer here:
11. Star Wars Jedi: Fallen Order
By Respawn Entertainment for PC and Xbox One (November 15, 2019)
Some of us just cannot resist games with lightsabers, and happily, this year we will be getting a new Star Wars game in the form of Jedi: Fallen Order.
You play a young Padawan, Cal Kestis, during the extermination of the Jedi Order by the Empire. The gameplay showed a lot of climbing, wall running and jumping stunts, so much so that it has been described by some as "Uncharted with lightsabers".
Accompanied by a bipedal droid BD-1 on his shoulder, Cal demonstrates shows many uses of the force to navigate the environments by pulling and pulling objects to open new paths, pulling enemies towards and stabbing them with the lightsaber, and even slowing down time to dodge enemy fire.
Check out the gameplay demo here – be warned, it's about 14 minutes long:
12. Ghostwire Tokyo
By Tango Gameworks (platform and release date not announced)
From the developer of the creepy The Evil Within, Ghostwire Tokyo looks suitably haunting with people suddenly disappearing leaving their clothes and shoes behind, and some long-haired thing in white floating around.
Although the trailer did not show the gameplay, it is described as an action adventure game where you have to "face down the occult and unravel conspiracy theories". And since the voice in the trailer says, "Don't fear the unknown. Attack it.", I'm guessing that some fighting is involved
Be spooked out by the trailer here:
13. Spiritfarer
By Thunder Lotus Games for PC, Xbox One, PlayStation 4 (sometime in 2020)
Spiritfarer is a platform game which is touted as a "cozy management game about dying". Lest it sounds too depressing, I think it's a great theme that is difficult to deal with sensitively and appropriately.
You play Stella, a ferrymaster who takes spirits across the seas and "release them into the afterlife". The art is beautiful and charming, and the gameplay seems to involve building and upgrading of Stella's ferry, gathering resources, caring for your spirit friends, exploring and also "learning how to say goodbye". I think this game is going to make me cry.
Take a look at the trailer and see if you agree:
14. Way to the Woods
By Anthony Tan for PC and Xbox One (sometime in 2020)
When I saw the trailer, all I can see is how inspired the developers must be by Hayao Miyazaki's works. The trailer for this beautiful indie game showing a deer and a fawn wandering around a deserted and occasionally flooded Tokyo city looks charming yet eerie at the same time. Gameplay seems to involve the deer interacting with the environment, using antlers to light the way and solving puzzles in order to progress.
There is even a Cat Town mentioned in the synopsis which makes me all excited. The trailer indicated that the game will come out in 2020 "for real this time".
Light up your antlers and check out the charming trailer here:
15. LEGO Star Wars: The Skywalker Saga
By Traveller's Tales for PC, Xbox One, PlayStation 4, Nintendo Switch (sometime in 2020)
Before you say "Hey, wasn't this already done before?", this new game will encompass the events of all nine main Star Wars films and it is entirely different from LEGO Star Wars: The Complete Saga game previously released in 2007, which only covered the events of the first six films.
Infused with the cheery (and occasionally cheesy) LEGO-styled humour, who wouldn't want the opportunity to relive the main Star Wars story again?
Clean the dust off your lightsaber and catch the trailer here:
16. Legend of Zelda: Breath of the Wild 2
By Nintendo Entertainment for Nintendo Switch (release date not announced)
It seems like the creators of the original Legend of Zelda game had so many ideas that a DLC will not be enough.
Hence the sequel to the 2017 Nintendo Switch game that was, for some, really the main reason for buying a Nintendo Switch. The trailer looks beautiful yet dark, and just informs us that it is "now in development" with no commitment on the release date.
Take a deep breath and just enjoy the trailer for now:
17. Borderlands 3
By Gearbox Software for Windows, Xbox One and PlayStation 4 (September 13, 2019)
More mayhem and more insane shooting action! Featuring the familiar cyberpunk art that is characteristic of the Borderlands series, Borderlands 3 ups the game with new playable characters, new skill trees with customisable augmentations, colourful and powerful attacks, and even a "Loot instancing" option in co-op so gamers of different levels will not fight over loot. Sounds like fun? Grab a weapon and watch the trailer:
18. Baldur's Gate 3
By LarianStudios for PC (release date not announced)
Baldur's Gate 3, the long awaited proper sequel to one of the best RPGs ever – Baldur's Gate 2: Shadows of Amn – released in 2000, is finally here, well, eventually. Developed by Larian Studios of Divinity: Original Sin fame, Baldur's Gate 3's trailer teased with a man turning into a Mindflayer.
Wizards of the Coast is also involved in the development to adhere to the Dungeons and Dragons lore. Nineteen years (or more) is a pretty long time to wait for a sequel, and expectations from Baldur's Gate fans are sky high.
Gather your party and get hyped with the teaser trailer here:
19. Deathloop
By Arcane Lyon (release date and platforms not announced)
The tagline goes "If at first you don't succeed, die, die again.", which is reminiscent of the Tom Cruise and Emily Blunt movie where characters keep returning back to a certain point in time after they die.
Isn't it kind of like games where we reload back to a save point so that we can try again, hopefully with a different outcome? Developed by the team behind the Dishonored franchise, Deathloop looks like an interesting concept, and the stylish cinematics look pretty darned good as well.
Take a look, and another look at the trailer here:
20. Marvel's Avengers
By Square Enix for PlayStation 4 (May 15, 2020)
For those of us suffering from withdrawal symptoms after Avengers: Endgame, you can relive the glory of the Avengers in the upcoming game, Marvel's Avengers when it is released in 2020.
What's rather disappointing is that the characters in the game do not look or sound the same as the beloved cast in the movie. You can see the cinematic trailer created by the in-game engine which, unfortunately, does not show gameplay: