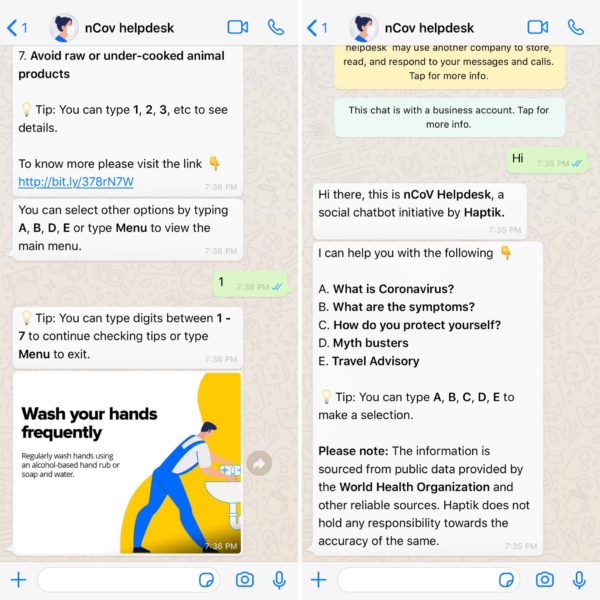 During a health crisis like the Covid-19 outbreak that menacing countries all over the world, there is need for good sources of information. The problem is choice.
There are so many online sites that offer information. A search for Covid-19 on Google yielded over 900,000 results. Type in coronavirus and over 3.6 million results pop up. Unfortunately, the facts are mixed up with the myths and hear-say.
Most of us are already suffering from Covid-19 news fatigue. But if children, friends and colleagues want to find out more, here are five destinations to check out for the latest developments on Covid-19, including travel advisories and facts about the coronavirus and its transmission.
1. WhatsApp chatbot
Developed by Indian artificial intelligence firm Haptik, the chatbot offers factual information. It comes in the form of an easy-to-use app, with information grouped into five categories – what's coronavirus, its symptoms, how to protect oneself, myth busters and travel advisory.
Launched last month, the chatbot pulls information from credible sources like World Health Organisation (WHO). Co-founder and CEO Aakrit Vaish's aim in developing this chatbot was to provide preventive measures that people can take to keep healthy.
"A lot of information is being consumed online but we thought a WhatsApp chatbot available on the mobile phone is more convenient than going to a hospital helpdesk or Googling online," he said.
Haptik, which is owned by Indian telco giant Reliance Jio, took two weeks to develop the chatbot. For Singapore users, one useful source of information it provides is a live Covid-19 tracker from Channel NewsAsia.
Add +91 93213 98773 to WhatsApp to access this chatbot.
2. WHO for global perspective
For rolling updates of Covid-19 around the world, the WHO website offers a succinct timeline of the Covid-19 emergency. It provides necessary information without the clutter of having to carry every related item like some media organisations.
Facts and information available include the emergency measures taken by different countries, the number of masks, gowns and other supplies needed, and daily situation reports. Head to the WHO website.
3. Up-to-date situation in Singapore
Want to know more about Singapore's measures and the latest news? Go to the Ministry of Health website. It corrects misinformation that may have been spread online and offers a daily account of the Covid-19 development on the island. Go to the ministry website here.
4. Just the right touch
This was the first video clip I saw without the hysteria surrounding this outbreak. Factual and calming, BBC's health editor Hugh Pym answers five questions about the coronavirus. Go for the details here.
5. Covid-19 chronicles
Head over to this site which offers a nicely created package of infographics to explain Covid-19 and its spread. Created by the Yong Loo Lin School of Medicine at the National University of Singapore, this was shared with the Singapore Press Club. Here's the link.