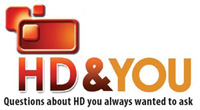 Serious couch potatoes got a big boost last week, when news emerged that HD5 is finally going to be shown on StarHub's cable TV service.
What's the big deal with one more free-to-air HD channel? Well, finally StarHub users won't need to get another Draco or other free-to-air HD boxes. And I'm glad I didn't buy a Samsung F8 LCD TV with an HD tuner built in.
More importantly, one of the biggest hurdles has been taken out for HDTV here. A disagreement between MediaCorp and StarHub had prevented MediaCorp's HD channels from being shown on StarHub.
It was said that both parties were squabbling over a small carriage fee, but in reality, they both disagreed in principle – a principle that has made it really inconvenient for viewers and may have slowed down HD takeup in Singapore.
So, it is a big step forward for HD fans here that HD5 will come to StarHub next month (July). Credit this time goes to the Government, which has a hand in brokering this deal – the news was announced by the Minister for Information, Communications and the Arts, Dr Lee Boon Yang, at the opening of the imbX trade show last week.
The news couldn't have come at a better than for new owners of HD TV sets – like me. I had bought the bargain of the show at the PC Show – a Samsung Full HD 40-inch LCD for $1,699 – 2 weeks ago. Since then, I've swapped out my StarHub box for an HD box ($48 one-time fee, plus one-year contact), bought an Xbox 360 and finally last Saturday, an Onkyo SR606 AV amp.
Everything is hooked up on HDMI – one wire from source to the amp, and the amp basically takes care of everything because it has audio switching. You don't need to run separate audio/video cables… everything now runs perfectly to the amp, which outputs the video to the Samsung N8 screen and my Quad 11L speakers.
When I tuned to StarHub's Ch301 and 302 for NatGeo and Discovery HD, you can imagine the joy. Never has TV looked as sharp, nor audio sounded so good on TV. And I'm not even going into Blu-ray yet.
My own experience vindicates what I have always thought – with HD, you don't want to go back once you have seen it yourself.
People are already buying up HD-ready and Full HD screens every other week, and if you turn up at Harvey Norman now, you'd be hard-pressed to buy a non-HD screen. So people are buying up HD screens fast – we may have reached an inflection point for HD screen takeup.
But what we need now is for broadcasters to move faster to bring in the content – it's already there in the US now (so there's no excuse), and even HD cameras are getting very cheap (available to consumers now), so there's no reason why we cant' have more content.
Bringing HD5 on StarHub is a great deal, coz it will bring at least some "regular" content, like CSI, on HD. Now comes the waiting game for more new channels. I think people have been patient  so far, now the ball is in the broadcasters' court.
(info on HDTV for newbies here)