The talk about digital music stores and online downloads by Steph in a previous post led to this: I have decided to tell all about my home-built digital front end audiophile music rig that has been delivering glorious uncompromised digital music through my valve amplifier coupled to a pair of excitable horn speakers.
Actually, many music nuts know how to do this already. If you are one of those nuts, please write in to give tips and show us your rig. For the rest, I'll describe my experience building a non-network rig, which is easier to built and arguably delivers better sound.
It involves several steps, the most crucial of which is to get a big, silent external hard drive.
Step 1
I can safely recommend the Seagate FreeAgent 750GB (below) – a virtually silent fan-free drive that doesn't get scary hot when stressed, even in a non-airconditioned room. I bought the firewire and USB 2.0 version. Firewire cos I wanna save one of those precious USB ports on my laptop.
A cavernous hard drive is the engine of your digital-music-audiophile-rig (er, Digmar?). You can also use a network drive to drive your Digmar, which gives the added benefit of being able to access music from any networked-laptop or PC in the house.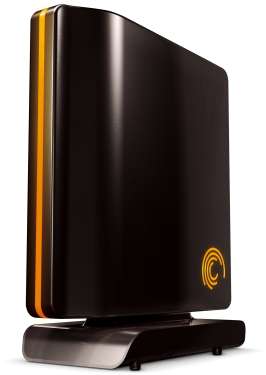 What I don't recommend is the chic-looking Lacie designer drive I bought a while back. My 750GB unit roars – and wheezes – like a small turbine engine, literally drowning the music at close quarters.
Step 2
Next is to consider what audio formats to rip your ceedees in. There are only two options for this if you care about audio quality: lossless or uncompressed audio format. Free Lossless Audio Codec (FLAC) or Apple Lossless Audio Codec (ALAC) are great, although purists say uncompressed formats like WAV or AIFF sound best. By best, it means not distinguishable from the original ceedee.
This is debatable, but even my not-so-good hearing seems to be able to discern the difference between both and preferred WAV. But WAV yields gigantic files. A CD of 12 songs can take about 500MB. A FLAC or ALAC compressed CD is less than half that.
And WAV can't take cool album art such as the one below, as well as other meta data, at least in iTunes, which is a bummer.
The reason I mentioned choosing an audio compression format before discussing music playing applications and computers is because knowing which formats you want is necessary to determine how much storage you need.
Step 3
Hooking up your drive to a laptop or PC.
The good news is: Any laopok, old or second hand computer should suffice, so you can go cheap and still get high-end sound from your rig. But that'll be for next instalment. Heh, I'm tired already writing up to here. How to build a Digmar will continue …