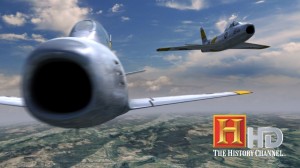 Good news for content-starved high-def TV (HDTV) fans. History Channel is going to be shown on HD for StarHub cable TV viewers from September 1, bringing with it programmes like Dogfights and Cities of the Underworld, whose computer graphics will really get a boost with the better clarity on HD.
The new channel will join the four existing StarHub HD channels Discovery, National Geographic, Sports HD and MediaCorp's HD5. This brings the total number of HD channels for cable customers to five, the cable operator said on Tuesday.
It also said it would start renting out HD set-top boxes for S$6 a month, which will sound sweet to people who have previously stayed away because they had to buy the HD box (S$48 to S$100 when you sign up for a contract).

It's been a good few months for HD fans here, as more programmes come on-screen. Sure, it's still only five channels now, but at least things are moving. And with the lelong going on at the Comex show tomorrow, more people will buy HD screens at cut-price deals, and we can get closer to mass adoption, even if it's with one channel at a time.