This is the first of our Geek Buy series, where we bring you the best buys in town whether it's a laptop, cellphone or pair of speakers.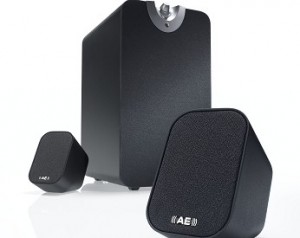 Let's start with one of the best bang-for-buck PC speakers you can get – the Acoustic Energy Aego M. I went down with my pal Marcus yesterday to Sim Lim Square, where he bought himself a pair of these little wonders for a nice S$250.
Though small, these PC speakers produce some of the sweetest music you can expect from a PC desktop setup. You'd expect clarity and tonal range that is beyond the grasp of most PC speakers from Creative or Altec Lansing, which are more interested in producing the "noise" of explosions, gunfire, and other special effects.
With the Aego M, you can actually hear the instruments in a music track – a simple feat that many PC speakers don't even offer (amazing but true!). I'll admit the subwoofer in the Aego M 2.1 setup may not offer as much bass, but I'd take that over extremely poor music reproduction, which seems to be the hallmark of most PC speakers.
Sure, S$250 is still too rich for some folks. But hook these up to your PC soundcard (or the iPod through a port at the front), and I'm sure you'll be hard pressed to find another better set of stereo PC speakers for the price (the Bose Companion 3 is good too, but is going for AU$399 according to its website).