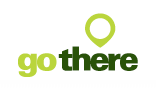 I'm really glad that the Gothere.sg folks got their 90 seconds of fame when Minister of Finance Tharman Shanmugaratnam mentioned them in the recent unveiling of the Singapore budget.
Gothere has built a darn heck of a great transport site in Singapore, and the guys have both passion and great ideas. Hopefully their S$100K project with LTA will allow them to grow into something more robust.
Caught up with them recently at Garag3, the NUS incubator for "mad geniuses". When I was there chatting with them, they showcased their streetlevel views function to me, which I thought was pretty darn cool. Similar to Google's StreetViews (available in US, Australia, Japan and parts of Europe), Gothere is first Singapore street directory site to incorporate such a function.

Although it was announced quietly on their website somewhere in December a month or so back, it is a function worth highlighting. Basically, it allows users to look at a visual snapshot of the roads where they are going, which is a great help if you're unfamiliar with the place.
For example, if you're unfamiliar with the roads around Plaza Singapura, you can take a look via this function, and the result is as shown below.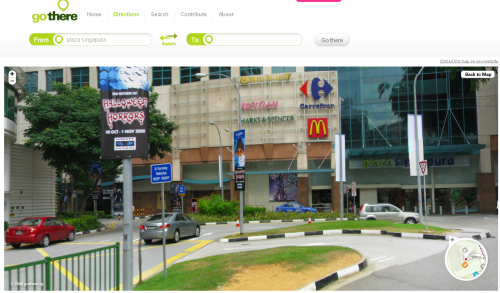 The photo can be rotated 360 degrees, allowing you to have a feel of what the place looks like. Photos are not in real-time, and yes, the Gothere crew spent days to snap photos of the roads around Singapore to serve from their site. With the amount of photos approaching the 4TB limit, assuming each photo is several MB each, this amounts to hundreds of thousands of photos. At least.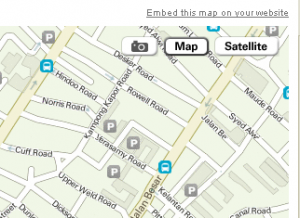 Founder Dominic Ee mentioned that the photos cover around 70% of Singapore, with some missing parts in the north of the island. For now, this function is going to be as put on the backburner as they have to prioritize on other things right now, like their first project with LTA. They will get back to this when they have more resources or need to do a refresh.
As it is, however, the function is still pretty useful. How it is accessed is via the camera icon in the top right corner of the map (see screen capture on right) when you do a routing search on Gothere.sg. Once the icon is highlighted, you can drag the cursor over the map, and anywhere there is a red dot, you can view a snapshot of the place.