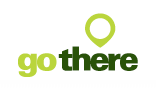 If you live in Singapore and you haven't heard of or tried Gothere, do yourself a favour and take a look. It's such a useful resource that I have the URL bookmarked in my brain.
I'll flat out admit it: I'm a huge fan and user.
Of all the various map, location and road routing sites for Singapore, I feel that Gothere is the best. It trashes the competition out there in terms of usability and function: the incumbent Streetdirectory, StreetDB, and Google Maps.
Don't even get me started on SLA's map or Rednano's one.
Started up in just May 2008 this year, Gothere.sg has generated buzz in the blogosphere but is still under the radar in the mainstream.

Why makes Gothere so good?
It's fast, it's easy to use, and it gives great results. And it has a ton of useful functions.
Want to avoid ERP? Check.
Find the best way to get to a location via bus or MRT or a combination of both? Check.
Estimated taxi rates for a route? Check.
Best of all, it is accurate and free. In the beginning, Gothere relied on the default Google map data, which was provided by Teleatlas. Problem is, this data was outdated, and the Gothere founders couldn't do anything about it.
So what did they do? They drove around around Singapore and GPS mapped all the roads in Singapore. This set of new map data is now the founders' intellectual property. Their Python backend still uses Google's API for rendering, but the map data is theirs.
Said co-founder Toh Kian Khai in an interview with Techgoondu: "If there are any changes to Singapore roads, we will try to update the Gothere map within one day."
Talking to all three founders – Kian Khai, Dominic Ee, and Kuan Chih Yuen, all 26 – one can't help but feel inspired by their passion for their pet project. All three are drawing no pay and working full-time on their dream.
"We felt we could do a better job than the others out there," said Dominic. "We have an edge over established companies – they can't be so nimble."
Product ≠ Business Model
However, one major downside is that they don't have a business model yet. Sorta like YouTube or Google in the beginning, Gothere.sg has an excellent product but is lacking a revenue model.
To which I say, it's fine for a while – it took Google some time to find their advertising model (pioneered by Overture) – but at some point pragmatics will take over: you need to survive as you build your product. I would hate to see Gothere die.
So Gothere folks, here are some ideas from me. Ideas are free — the hard part is finding out what works and implementing them. 🙂
Look for help to grow your business. Think seriously about getting help from VCs, network to acquire mentors, and basically just talk to people. For example, the Singapore government is trying to encourage entrepreneurship, and there are grants being thrown around, from the likes of IDA, MDA, and Spring. It's worth a look at least, for money or contacts.
Write a simple business plan. Even if it's a simple two pager that spells out what you're doing and hope to achieve. Don't know how to start? Go get a copy of Business Plan Pro or some other business planning software which guides you into putting together a coherent plan.
Experiment with business ideas to see what works. Build a widget for companies to embed their location maps (something most about pages need), which will drive even more traffic to the site. Give it them for free, or charge them micropayments when it's used, limited to a low capped amount to test the market. Build a locality search for ATMs for some bank, etc. I think a freemium model has potential – give it free to end users, but charge corporations and give them service support.
Partner up with companies. For example, many mobile phones now come with A-GPS and you can bet the phone manufacturers need to include map support that they either build or buy. Build an OEM partnership with Nokia, HTC, Samsung, etc. where you become their map developers for Singapore. Work with a local telco to see if they can bundle this with their phones as a premium service and you get a cut. Or try Google or Yahoo to see if they would be interested as content providers. Partnerships are one good way to drive revenue, and some successful Singaporean examples are Muvee and TenCube.
Here's wishing Gothere the best of luck!
(Note: This story is part of a series of stories on the web and tech innovation scene in Singapore. Check out the interview with Yebber and Shoplette if you haven't seen it.)