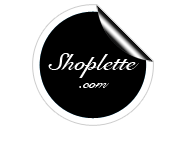 The idea: you spot a pair of pink hello kitty slippers in a boutique mall in Japan's trendy Shinjuku shopping district to die for, and you want to let all your friends know. You whip out your phone, snap it, and upload it where all your friends can goggle over your latest purchase.
Except that with Shoplette (beta), the whole world can find out what and where you like to shop.
"Shopping is a very social thing," said Shoplette founder Shannon Low Shen-Li, 32, in an interview with Techgoondu. "If you spot a good buy, you are often excited to tell others about what you have bought!"
Shoplette's social media platform allows anybody to "follow" your purchases, and they can even vote on whether they think the buy is a bargain or not. The more highly rated your purchase, the more visible it is on the main page.
Shannon likens Shoplette, whose beta officially started in May 2008, as a "sort of twitter for shopping", where your friends can find out where you're shopping in real-time. Photos and content can be submitted via MMS, making the input pretty easy.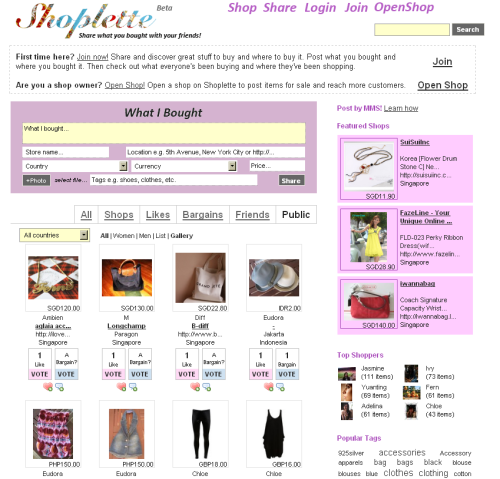 Besides user submitted content, business owners can also set-up a virtual shop on Shoplette. A basic account is free (for now), but featured sites – which appear in a column on the right – are charged at the low cost of US$10 a month.
With such low rates and no other appreciable web advertising, it's a wonder that the founders are making money at all. It turns out that Shannon (together with co-founder Kok Keong, also 32) is not looking at Shoplette as a money spinner, but as a test product to sell such Web 2.0 social platforms to companies who might want to use it as a marketing tool. His corporate site, Mobrick, lists their objective as building "crowdsourcing websites, content-driven social networks, user-generated content platforms" for organizations.
Thus far, their test product has generated fairly decent results.
Shoplette seems to have struck a chord with predominantly female shoppers in the teenage to early twenties range. According to Shannon, from a low user base of 20 testers in May, they have grown to around 1,000 shoplette members via word of mouth now — not bad for a young project.
"It takes time to grow a community," said Shannon. "People sort of forget that even popular sites like Facebook were around for a few years before it really took off in the last two or so."
Shoplette is self-funded, but they are on the lookout for VCs who can help them with contacts and experience beyond just the monetary aspect. As for starting a tech business during a downturn, Shannon was sanguine about it.
"If you want to start a company, you do it anyway despite whatever the economy is like," he said.
(Note: This story is part of a series of stories on the web and tech innovation scene in Singapore. Check out the interview with Yebber if you haven't seen it.)