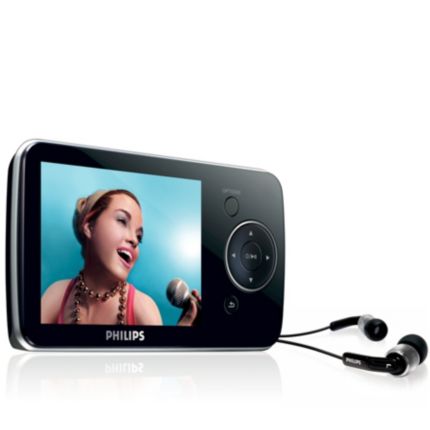 Philips may not be on many portable gear head's shortlists of brands when it comes to buying a new portable music player, but its new model's support for FLAC could swing a few votes its way.
The GoGear Opus is one of a slew of new releases by the Dutch electronics giant in Singapore today, and the only one in that bunch – as well as one of the few in the market – to supprt Free Lossless Audio Codec (FLAC), an open source lossless compression standard that more than a few discerning listeners have told me is sonically a tad better than rival codecs like Apple Lossless and WMA lossless (although I can't really discern those differences – all lossless codecs sound as good to me).
A rival to Apple's Nano in terms of features and price, the decidedly chunkier Opus has a larger screen real estate compared to the Nano (2.8 diagonal inches vs 2.0-inch) but also costs slightly more ($339 vs $328 for the 16GB version; $299 vs $248 for an 8GB version).
The Opus comes with a built-in audio recording function, which is lacking in the Nano, but it lacks Nano's motion-sensing feature that automatically flip-flops screen displays from portrait to landscape. The Opus arguably offers better sound off the bat, thanks to its sound-sealing earphones, which appear to have a sonic edge over Apple's bundled conventional ear buds.
But it is the Opus' support for FLAC that will excite open-source software inclined audiophiles – although its 16GB flash memory capacity means you can only carry 50 or so albums' worth of lossless music at any one time.
Alongside the Opus, the other new Philips music and video portable players launched are the Aria ($229 for 8GB and $189 for 4GB); ViBE ($169 for 8GB and $149 for 4GB); the diminutive Spark ($129 for 4GB and $109 for 2GB); and the Shuffle-lookalike Mix ($119 for 4GB and $79 for 2GB).