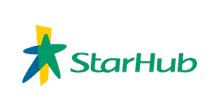 StarHub has entered what it calls the "next-gen broadband war" with its latest fibre-based broadband service plans, joining what is turning out to be a big fight for consumer dollars in a newly-shaken up market.
The "green" camp is charging S$68.27 a month for its 100Mbps fibre-to-the-home (FTTH) plan, which offers 50Mbps uploads and an international link of 15Mbps.
It also offered higher plans, from S$82.18 for a 150Mbps plan up to a crazy S$395.90 for a 1Gbps service, which I'm sure home data centre users will be really interested in. For a comparison with other services unveiled this week, there's more info here.
Like M1, StarHub is offering its cable customers a three-month trial of its new fibre broadband services, called MaxInfinity. Users can sign up at the Comex show this weekend, or go to a StarHub site (when it's up in a short while).
In addition to the new plans, StarHub also said that its old cable modem services, which now look unattractive because of their high prices.
Make no mistake about it, the broadband market has become more competitive, with better deals out in just a few short days. It'd be interesting to see the action at this weekend's Comex show.