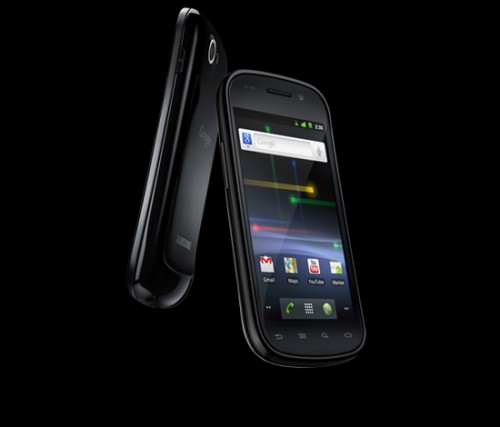 Weeks after rumours of a second Google Nexus phone surfaced on blogs everywhere, the Samsung-made Nexus S has finally been unveiled last night (SGT) by the search giant.
UPDATE: The phone will reach shops in Singapore in late Q1 2011, "subject to successful negotiations with local partners", says Samsung. It adds that specs will also be slightly different if it makes its way here – the operative word being "if", so there's no guarantee it's coming to here.
The biggest thing here is, of course, the new version of Android, codenamed Gingerbread.
What's new? To users, the main thing could be the easier copy-and-paste function for webpages, where apparently, you only need a single tap to select text. If that applies to e-mail messages as well – impossible on the current https://www.techgoondu.com/2010/01/06/say-hi-to-the-google-phone/ – that would be great.
Other than that, there's a slicker black notification bar and an on-screen keyboard that supports multi-touch and promises to make typing easier, says Google.
Things appear more interesting under the hood, where a more aggressive task manager is said to keep things running more smoothly. Hardware-wise, the most interesting is the slightly curved screen, which is said to make the phone conform more closely to your face while you're calling. Nice idea, but we'd have to get a hands-on to see if it works really well.

Among the new stuff, there's also an NFC (near-field communications) chip built in that, if done right, could turn your phone into a digital wallet to pay for stuff at a shop or even check in for a flight.
Yes, I know you've heard all that before. Nokia's tried it half-heartedly. Singapore's telecom operators have run trials with the government here, spending precious dollars on the technology, but it's just not taken off in most places because the ecosystem just hasn't pushed it hard enough with enough devices and services.
The only place where mobile wallets have taken off in a big way is in Japan, where NTT DoCoMo's proprietary Osaifu Keitai is widely used to buy noodles at convenience stores and even to log in at karaoke lounges to load your favourite song lists. Can Google replicate this success? Early days yet, I'd say.
The rest of the hardware on the Nexus S is not a surprise anymore, with Samsung's excellent 4-inch Super AMOLED screen seen in its earlier Galaxy S, which has recently been upgraded here in Singapore to Android 2.2. There's a Cortex A8 processor running at 1GHz, a 5-meg camera and a 1,500 mAH battery in the 129-gram frame, so the specs are up there in the game.
But the real big step up is likely not in this Nexus S, but perhaps this prototype that Engadget says should be showed off at the upcoming Mobile World Congress show in February next year. Ship dates for that could be well into 2011, so meanwhile, the Nexus S should keep its place at the top.
Like the Nexus One before it, this "Pure Google" phone will do away with any software "wrappers" or add-ons, so that's great news if you hated Samsung's interface. Plus, you can expect the Nexus S to be the first to get the latest Android system upgrades over the air, as they become available.
What do I make of the Nexus S? On paper, it's a little like a souped up Galaxy S, but it's not a game-changing step up. It looks also to be a "developers' phone" that Google is pushing out, even though it is sold in the United States at Best Buy after Dec 16, and in Carphone in the Britain after Dec 20.
Having said that, a Super AMOLED screen is always welcome, and the Nexus S fits the bill if you've been wanting one with guarantees of easy future OS updates (the Galaxy S wasn't the easiest to upgrade – see the comments on our article).
I'd be checking out the Nexus S more if I didn't have a scratched, cracked and abused Nexus One that is still chugging away extremely well after almost a year. It helps too that the old phone will get a nice Gingerbread man after having a Froyo dessert earlier this year.