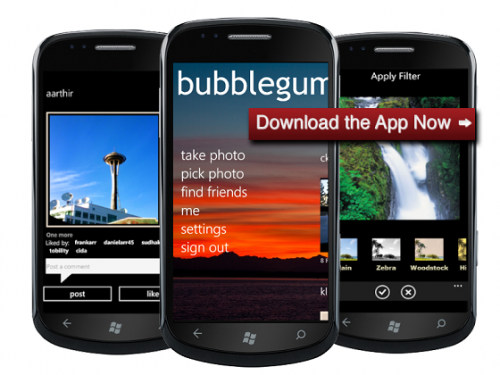 If the only thing holding you back from jumping to Windows Phone 7 (WP7) is the lack of a camera app that lets you take photos looking like they came out of a cheap camera from the 1970s, we have good news for you!
Bubblegum, a social photo sharing app much like Instagram on iPhones, made its debut earlier this month. Developed by two Microsoft employees, the app is straightforward enough: take a photo, apply your favourite filters, and share them on your preferred social networks. Like Instagram, you can also follow your favourite mobile phone photographers (phonetographers?), explore other people's photos, and leave comments.
The best thing about Bubblegum, in my opinion, is the various geeky quotes (Yoda, anyone?) it displays whenever you visit the "Settings" page. That's a +1 from all nerds out there.
Trivia: Bubblegum is in fact developed by a husband and wife team at Microsoft, Sriram Krishnan (Program Manager for Microsoft's Windows Azure) and Aarthi Ramamurthy (Program Manager for Microsoft's XNA).
The New York Times reports that Microsoft, in an attempt to jump-start app development on its mobile platform, is allowing its own employees to write applications for Windows Phone 7 on the sidelines of their day job, and letting them keep the resulting intellectual property and most of the revenue. This is an unusual move in a world where engineers are asked to concentrate their creative juices solely on company products.
More than 3,000 employees have submitted their apps, and about 840 have been published in the Marketplace. Hopefully this move will encourage innovation within the company and bolster the number of apps in Microsoft's fledging Marketplace.
How do you use your phone camera? Would you be attracted to an app like Bubblegum? Let us know in the comments below!