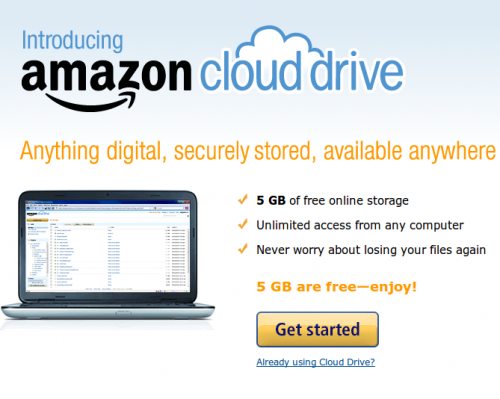 In a belated move that should surprise no one, Amazon made its foray into the personal cloud computing space with the launch of its Amazon Cloud Drive service that allows users to store documents, photos, pictures and videos on the cloud.
With the success of Amazon Web Services (AWS) that offers on-demand computing power and online storage to mostly businesses and software developers, it was just a matter of time before Amazon taps on its cloud infrastructure to break into the personal cloud.
In fact, each file on Amazon Cloud Drive is stored on AWS' Simple Storage Service, the same online storage used by the likes of Second Life, Yelp and Ping.sg.
Amazon Cloud Drive gives you 5GB of free storage to upload files and MP3/AAC music without DRM protection in their original bit rates, and those who purchase one Amazon MP3 album will get 20GB of online storage. Additional storage plans starting at US$20 a year for 20GB are available for those who need more space.
Beyond online storage, you can also play back music through the browser-based Amazon Cloud Player or on Android devices using the Amazon MP3 Android app (Apple's iPhone isn't supported right now). This idea isn't new. Ubuntu One Mobile already lets Ubuntu Linux users to listen to music hosted on the Ubuntu One cloud through iPhone and Android apps. The only difference is Ubuntu One Mobile is not free.
While Amazon MP3 is only available to U.S. customers, Amazon Cloud Drive is still an easy way to access your existing digital music collection anywhere with an Internet connection. It's also a great cloud backup option for local users, given that AWS has just established a Singapore data centre last April. With 5GB of free storage, you also get more space compared to just 2GB of free storage on Dropbox.
Notwithstanding, Amazon Cloud Drive is just an online storage service and nothing else. Unlike Dropbox, you don't get collaborative features such as file sharing and mobile access to documents through smartphone apps. Moreover, there isn't an Amazon Cloud Drive application that you can install on the PC to synchronize your files with the cloud service.
Amazon's motivation for launching a personal cloud service with a focus on delivering music through the cloud is clear: it wants to compete with Apple and Google which are reportedly working on cloud music services. By allowing users to upload existing music collections from other sources – pirated or otherwise, it has a higher chance of creating stickiness among its users, who will be more likely to purchase Amazon MP3 music in future.