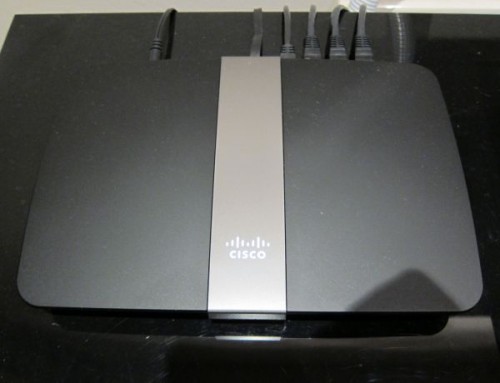 Okay, so this much-sought-after Wi-Fi router is only officially launched to the Singapore media today. But the truth is Linksys' E4200 has been out in the market here for at least three weeks, during which time I bought myself a unit to hook up to my new fibre broadband connection.
The first thing that catches your eye is its ultra-sleek design. Hands down, this is the most gorgeous-looking home networking router out there, if there's such a thing. 
I had previously been using D-Link's excellent DIR-855, another top-end router that handled well the tasks at home, which included connecting two NAS boxes, five PCs, a couple of game consoles, a Logitech Squeezebox Touch and even a networked TV, to the Net.
My next router, I told myself, would have to have the standard high-end features – a gigabit WAN port, gigabit LAN ports and a powerful processor that handled everything thrown at it without freezing (yes, lesser routers do crash if you stack too many downloads on them).
But beyond just what the DIR-855 offered me, I wanted something that looked nice as well. There, I said it, I first looked at the E4200 because of its looks.
I wanted something that matched my Sony Playstation 3 and shiny TV console, because I was relocating the core of the home network from my study room to the living room, thanks to the fibre termination point being set up in the living room.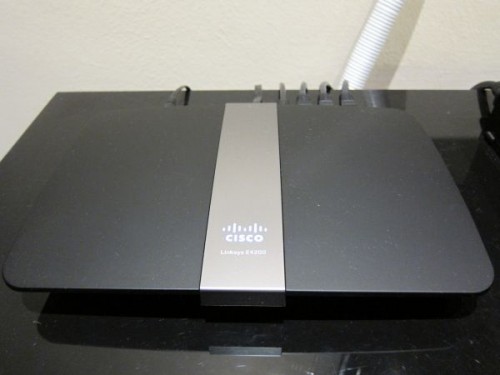 The minimalistic E4200 doesn't have blinking lights at the front to distract you when you stream a movie to the TV. Only thing present at the top and front is the lit Cisco logo. The high-end router is also pretty small and svelte – more so than previous "UFO" Linksys routers.
Besides its looks, I soon got wowed by the E4200's performance as well, after reading the respected SmallNetBuilder review site's tests of the new router.
In particular, I was impressed by its WAN-to-LAN routing prowess (important for me if I wanted to have several high-speed connections to the Net via multiple devices) and its high-power 2.4GHz and 5GHz Wi-Fi links, which meant steady wireless throughput in an apartment that has several blind spots, no thanks to heavy beams between rooms.
Once that was settled, my mind was made up. So, at the Funan mall a couple of weeks back, I ended up with a nifty new router after I bargained S$20 off the (rather expensive) S$279 suggested retail price. Right now, it is sitting prettily on the TV console, next to other audio-visual gear in the living room.
I'll have to say I have not measured the router's performance as SmallNetBuilder has, thus this is not a full Goondu Review. What I can say, based on casual observation, is that it is pretty robust. Even when I threw multiple downloads at it, while uploading to a friend via FTP, there was no slowdown when it comes to surfing the Net.
Another good thing is the 5GHz Wi-Fi,which proves to be speedy as long as you don't try pushing the signals through too many walls (At higher frequencies, 5GHz signals are less able to penetrate walls than the regular 2.4GHz Wi-Fi that runs simultaneously on the E4200).
At least at line-of-sight distances of a handful of metres, the 5GHz network is great for fast transfers to my laptop. Even 1080p high-def movies stream via Samba without a lost frame, and I can scroll through movies instantaneously, without the usual lag associated with slower networks.
For this home setup, I had connected the router directly to a Nucleus Connect ONT (optical network terminal) and linked up to my M1 Broadband 100Mbps FTTH (fibre to the home) service. The other gear in the rest of the apartment are mainly hooked up via in-wall Cat5 cables and another couple of gigabit switches.
The reason why I am not using M1's Huawei residential gateway, which I can rent for S$2 a month, is that it does not seem to have gigabit LAN ports (see Huawei site). If I run at 100Mbps on the WAN, I'd like some overhead within the LAN to deal with that kind of speed, so gigabit is the obvious choice – something you get standard on the Linksys E4200.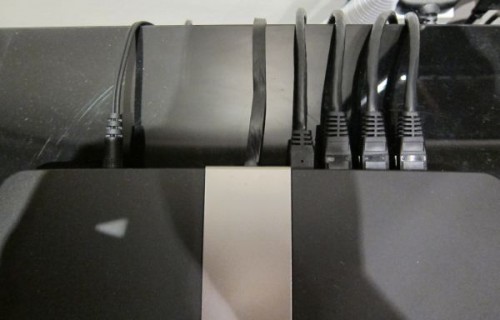 The only thing I don't like about the E4200 is the manual Linksys interface, which offers mainly the basics and not even stuff like setting AES or TKIP encryption with the WPA2 Wi-Fi security. To do that, you have to have the router at its basic settings and control it (via Wi-Fi Protected Setup) with an Linksys PC application installed from the bundled CD.
And unlike with the D-Link DIR-855, Linksys also does not let me block out segments of incoming traffic by specifying their IP address ranges. This is something that is useful, say, if you just want to open up parts of your network to friends who are on SingTel or StarHub, and block out potential attacks from the rest of the world.
Instead of doing this on the E4200 router, the workaround for me is to set up the same rules on the firewalls of particular devices on the network that accept incoming connections from the Net.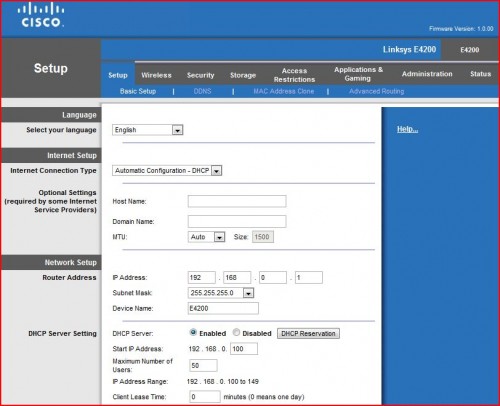 What also irks me about Linksys UI is that it is rather sluggish to load, compared to, say, the D-Link DIR-855's UI, which feels much zippier. One solution is, of course, to install third-party firmware such as Tomato or DD-WRT, which I understand, are currently being developed for the E4200.
But maybe that will be for another day. Right now, this good-looking and powerful router seems to be doing its job the way I like it to. It's not such a cheap buy, for sure. But a Geek Buy for a home networking buff? Definitely.