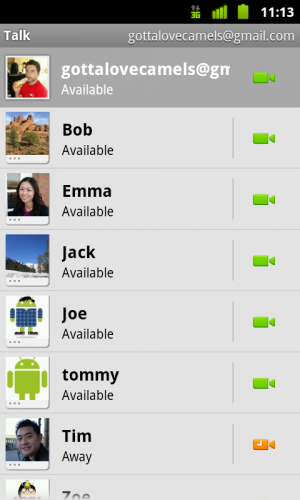 Google has begun pushing out the Android 2.3.4 update to its Nexus S flagship phone, adding the highly anticipated feature of voice and video calling within GTalk. This puts it in direct competition with the likes of Skype, which also offers a similar service.
This update gives Android a leg up over iPhone's FaceTime in two ways. For one, calls can be made over a 3G or 4G network (provided that the telco supports it) and over WiFi; the iPhone only lets you FaceTime over Wi-Fi.
Also, you can call your friends who are on Gmail and Google Talk on their computers without additional charge. In comparison, Apple charges you US$0.99 for the FaceTime app, which you must purchase through the Mac App Store.
While you're on video call, any text chats from your chat partner will be overlaid over the screen. Clicking on any links will not stop your chat; your video will be paused and resumed whenever you're ready.
The update will roll out over the next few weeks to the Nexus S, while other Android phones will only get it "in the future". If you're feeling impatient and adventurous, and can't wait to see what your friend looks like on the other end of the line, Engadget reports that XDA Developers have provided a direct download link for you to install manually.
But be sure to know what you're doing or your phone might turn into a brick before you know it! Meanwhile, check out how it works in the video below: