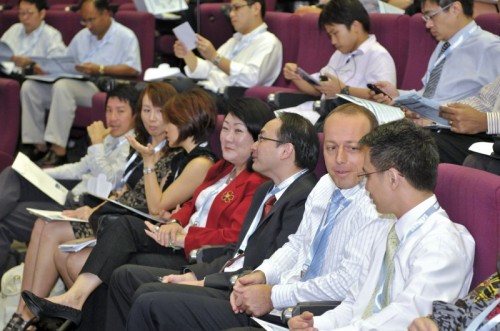 What features would users expect from the mobile OSes running their handheld gizmos in the next six to 12 months? What will LTE and 4G bring to telecom operators when the speedy networks are finally rolled out? And how can organisations gain by creating mobile apps that tap on "the cloud" through their smartphones?
These are just a sample of the issues that industry leaders from Singapore and the region will be discussing at the upcoming UNWIRED 2011 conference on May 26, 2011.
In its second year, the event brings together the who's who of the industry to identify issues facing the mobile and telecoms sectors as well as to find strategies for growth in the upcoming months and years. (click here for last year's conference)
Opening the event this year is the assistant chief executive officer of the Infocomm Development Authority (IDA), Khoong Hock Yun. The rest of the afternoon will see panelists from SingTel, StarHub, Motorola, Nokia, HP and many other organisations discuss the hot topic issues of the day.
This year, the focus is on whether LTE/4G can be the catalyst for change in mobile broadband, which, some say, has consigned telcos to being low-cost, flat-rate carriers offering "dumb pipes" for upstream services offered by Google, for example. The question on many lips is whether speedier LTE/4G services in future can be sold in a tiered manner, with quality of service instead of top speed as the differentiator.
Also, as important is the emerging mobile "cloud". As more companies expand their cloud computing resources, how can they easily let corporate users log on to these cloud services via their mobile handsets and tablet computers?
And finally, the hottest topic will be on mobile OSes of the future. For some developers, it might make sense to lock on to one platform – be it iOS, Android, Blackberry or Windows Phone – to trim costs while reaching out to an optimal audience size; yet for others, the variety means they are not taken for granted by a big platform owner.
Through three interactive panels, developers, users and other fellow industry experts are set to discuss these topics in depth. This year, expect no boring pitches and death by Powerpoint – just a good discussion of the issues.
Please sign up at the UNWIRED 2011 site. See you on May 26!
Details:
What: UNWIRED 2011
When: May 26, 2011 (Thursday), 1pm
Where: Amara Hotel, Ballroom 1 (Level 3). Directions here.
UNWIRED 2011 is organised by Techgoondu writer Alfred Siew, and Techgoondu is official online media for UNWIRED 2011.