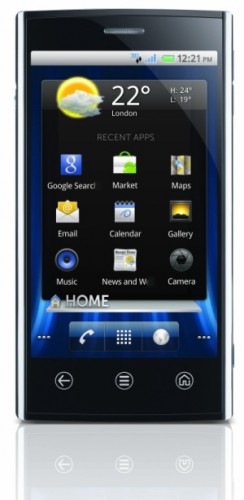 If you've been lusting over the smooth, curved Gorilla Glass screen and sleek exterior of the Dell Venue smartphone, it's here finally. The Android 2.2 smartphone – which feels a bit 2010, to be honest – has hit stores here in Singapore with a recommended retail price of S$738. The phone will also be available through telcos StarHub and M1.
The Venue sports a 4.1-inch AMOLED display (800 x 480) under a smooth and durable Gorilla Glass display which is slightly curved down towards the side to improve typing ergonomics. Speaking of typing, the Venue also comes with the Swype keyboard pre-installed, which should significantly speed up text input after some practice.
The 8-megapixel camera with LED flash and 4x digital zoom make it a great on-the-go shooter and you can quickly touch up photos and videos with Dell's pre-loaded editing software. The Venue can also be a productivity companion, with support for a full range of e-mail services, including Microsoft ActiveSync. An office suite is also available for viewing and editing documents on the go.
Dell has layered a skin on top of Android, which they call "Stage UI". If you've seen the Dell Streak before, this should be familiar. From my past experience, Stage is a nice little addition on top of stock Android; it doesn't alter the UI drastically, like HTC's Sense, yet still manages to add some small improvements to overall usability. For those of you who adamantly prefer the stock Android UI, Stage shouldn't upset you too much.
Now, Dell, where's that Venue Pro we're all waiting for?