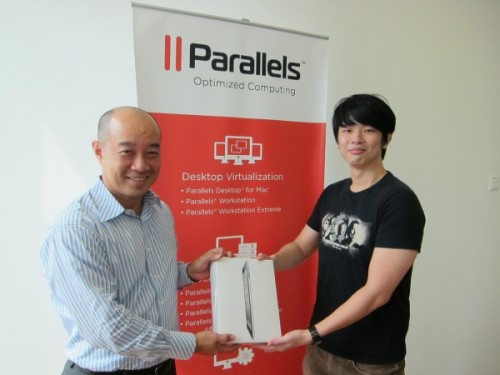 While others were still guessing when the Apple iPad 2 would reach Singapore late last month, Clement Hu was
trying his luck with Techgoondu's iPad 2 giveaway. This month, we are giving out not one, but TWO iPad 2s, sponsored by our pals from Parallels Software.
The task we put to those want to skip the queues and win a free iPad 2? Tell us a goondu moment you had with using the Parallels Software, which lets users run Windows programs simultaneously on Mac computers.
Alternatively, those who don't have the software can tell us about what they'd like to do on a Mac that they used to do on a PC.
So, what did Clement say to win?
Honestly speaking, MAC is still not very supported in my university and being in an IT course, there is still a need to run Windows for easy completion of my course work.
The best thing that Parallels brought to the MAC world the ability to separate work and play!! So Facebook, MSN and surfing on MAC while Apache and programming on Windows. So clearly separated while running so seamlessly together. No longer do I need to choose between the convenience of OSX and flexibility of Windows! When you have the best, why go for the rest?
But who is to say we can't mix a little of play into work? A stage or 2 of Super Meat Boy way before the MAC Purist can even touch the game in the middle of class will do no harm. Only when not caught by the eyes of your Professor of course!!
In the middle of the most exciting stage, I was thumping at my keys frantically, completely absorbed by the gameplay. After god knows how many seconds i realized something though.
Eyes were staring in my direction, and it's not just my peers sitting around me; guess what: it was the prof eyeing me with this furious glint like he could see through the back of my laptop! And he said to the class, " I didn't know you need to type for furiously and look so intent to configure Apache Tomcat!"
To make things worse, in panic, I exited the game without saving ☹
I guess it was little wonder that I given a "D" for my class participation by the prof, and I suppose it stands for disturbance.
The truly geeky, yet "goondu" moment captured the attention of our judges at Parallels Software, who felt that the incident felt real, yet quirky.
So, Clement, who just completed his undergraduate course at the Singapore Management University, walked off on Tuesday, smiling with a gizmo that much of Singapore is talking about.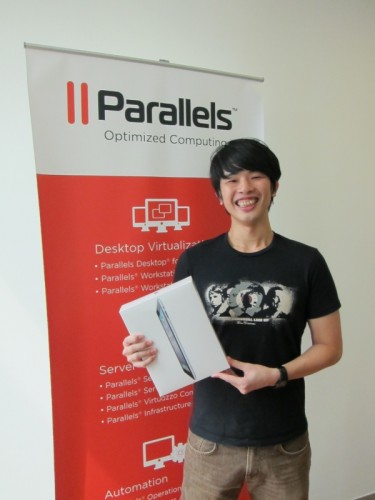 For those who didn't win this time, don't fret. We  have another iPad 2 to giveaway in the next couple of weeks. Same question this time round, but with a twist.
Previously, we asked you to talk about a goondu moment that had to do with your "play". Now, we would like to hear stories from you about how you had a goondu moment while working on Parallels. Alternatively, tell us about a Windows program that you wish to run on your Mac at work.
Post your comments on the Techgoondu Facebook page. We'll consider the great entries that were written previously about "work", and we welcome new ones as well.
Have no clue what we are talking about? Read up about Parallels here! And don't forget to "like" the
Techgoondu Facebook page as well.  The reward for that bit of work is a gleamy new iPad 2. Good luck!