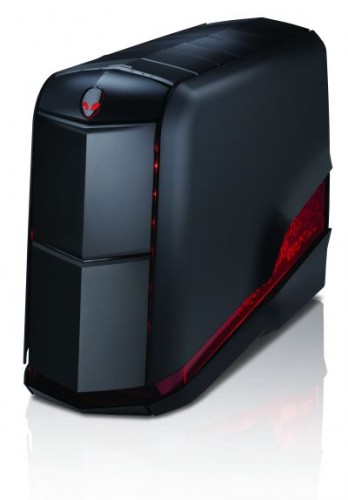 If you're a fan of Dell's Alienware range of "bling-in-on" gaming desktops, you'd be happy to hear that the PCs now come with Intel's top-end Core i7-3960X or Core i7 3930K six-core CPUs in Singapore.
On the new Alienware Aurora R4 desktop, the LGA2011-based CPUs are water-cooled, and factory-overclocked to between 3.9GHz and 4.1GHz as well, which seem alright, unless you're the type who regularly pour liquid nitrogen into your PC for extreme speed. 
Among other goodies, the geeked out chassis packs in a motherboard with the enthusiast X79 chipset and up to 32GB of quad-channel DDR3 RAM.
Of course, we know graphics are the main thing for games such as Battlefield 3, so this Alienware lets you add on some of the most powerful options. Think of an Nvidia GTX 590 card, or two of AMD's 6950s in tandem, pumping out the high-res eye candy on screen.
What we'd like, of course, is an option for a single AMD 6990 or two AMD 6970s in there as well. But for that, you'd have to build your own rig, instead of ordering Dell's 20kg behemoth, because Dell Singapore doesn't offer them as an option when we checked.
And prices? The basic S$3,499 version comes with an overclocked Core i7-3930K CPU, 4GB RAM (you'll want more, really!), 1TB hard drive and an AMD 6870 graphics card.
We know you can get more horsepower for that price if you build your own geeked out rig from components at Sim Lim Square, but hey, not every gamer's a builder these days.
Plus, you won't get the bling, which comes in one of six impossible-to-miss colours. Or the trademark ALX chassis with an alien head at the front and "breathable vents" that open up.
What we really want is this particular model with the mirror finish (below), but somehow Dell's website doesn't have an option on this. We'll check back and update this once we find out from Dell.