Klout is but one way to measure a person's influence in cyberspace, and a new player is looking to fire up the game with an emphasis on the popularity of entertainment personalities.
Singapore-based Starcount, as its name suggests, collects data from 11 major social networks in the world, such as Facebook, Twitter, YouTube, and Sina Weibo, and measures how popular your favourite movie star or popular figure is on social media.
The result: chart after chart of the world's most popular people, which the user can sort according to territory and category. In Singapore, for example, JJ Lin was the most popular in "social media" at an unveiling event a fortnight ago and the Workers' Party the most popular in "politics". Those at the top might not stay there for long, though — the charts are updated daily.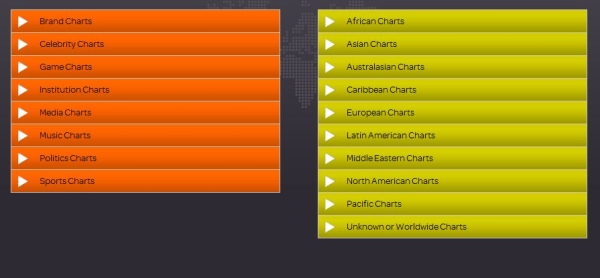 Click on any one star, and you can view his/her most recent updates on linked social networks, and a short bio. However, a huge chunk of the bios are missing, and there's no way the celebrities themselves can step in to update, at least not at the moment.
"We are, and always will be, on a journey of adding people and this is just the starting point," said Drew Thomson, co-CEO of All The Worlds Entertainment (ATWE), the company behind Starcount.
If you're thinking of searching for your own name on Starcount, don't bother. The service currently focuses only on public figures, brands, and organisations.
There are, however, plans to include more user interaction down the road. For one, future updates to the site will let users create their own charts and find out if they are the most popular among their friends.
Also in the pipelines are "fan charts", which measures the most hardcore fan of a particular celebrity, with corresponding rewards for that fan.
All these efforts culminate in two ambitious events to be held in Singapore in 2013. Marina Bay Sands, the Singapore Tourism Board, the Economic Development Board and the Infocomm Development Authority have thrown their  combined weight behind ATWE, no doubt with the belief that the events will be massively successful.
The first, called Social Star Awards, is touted as the "Academy Awards for social media". A range of awards will be presented to the most popular celebrities in their categories, who will hopefully fly down to accept the awards. So look out for some red carpet personalities jazzing up our city!
Plus, a two-day music festival dubbed "the Singapore Social" promises to serve up A-list performers right here in Singapore.
Despite the ambitious plans, Starcount will face challenges.
For one, the categories are a bit haphazard. Although the words "entertainment" and "celebrities" are tossed around constantly, Starcount obviously measures more than that. The site includes categories such politics, sports, and non-profit organisations. Wikileaks, second on the "non-profit" chart at the time of writing, probably won't see itself as an entertainment outlet.
Also, as with Klout, the algorithms behind Starcount are opaque. We have to just trust the code to do what it's doing, which isn't always ideal. And the public is not privy to how exactly people are chosen to be listed on Starcount. According to the company, you can write in personally if you feel you are important enough to be included on its list.
In addition, the interface is still a little rough around the edges. It's easy enough to navigate, but some places still give an inconsistent end-user experience. For example, Ray William Johnson's bio touts his YouTube popularity, but the bar of social media icons prompting you to connect with him lacks the YouTube icon.
Right now, it's all a bit of a blur on what exactly Starcount is trying to be achieve. Is it a social media ranking system in direct competition with Klout, a social media platform all unto itself, or an entertainment platform designed to sell its two mega-events?
Regardless, the slick platform and potentially strong viral factor built in could prove to be a big selling point. We'll wait for future updates bringing the rest of its major features before making a definitive judgment, but for now, it's simply a way to while away some minutes stalking your favourite celebrity or organisation.